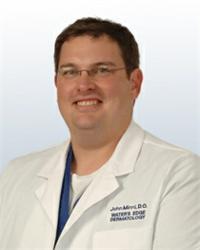 The incidence of skin cancer has reached epidemic proportions and is rising.
Palm Beach Gardens, FL (PRWEB) May 01, 2012
Skin cancer is the most common form of cancer in the United States. And during Skin Cancer Awareness Month this May, Americans can learn of the many ways to protect their skin and prevent skin cancer—and of the new pharmaceutical options recently approved by the FDA to treat skin cancer.
According to the American Cancer Society, skin cancer accounts for nearly half of all cancers in the United States, with one in five people having some form of skin cancer. Melanoma, the most serious type of skin cancer, will account for more than 75,000 cases of skin cancer in 2012, resulting in roughly 9,000 deaths annually.
"The incidence of skin cancer has reached epidemic proportions and is rising," says John Minni, D.O., a board-certified dermatologist at Water's Edge Dermatology, a leading practice with 16 locations in Southeast Florida. "A recent study showing the large increase in cancer rates among young women due to ultraviolet ray exposure from the sun and indoor tanning—is most alarming."
A study published last month in Mayo Clinic Proceedings found that between the years 1970 and 2009, the incidence of melanoma increased eightfold among young women and fourfold among young men ages 18 to 39.
"Men, mostly due to working outside longer, have had a higher lifetime risk of melanoma than women—but this new higher rate among our young women can be attributed to lousy sunscreen protection while laying around the pool and an increased use of tanning beds," says Minni."It's been called the 'Jersey Shore effect'—tanning beds were huge in the '70s and '80s, decreased in popularity and have resurged in the last several years."
Minni suggests that there are many new self-tanning products and spray-tan booths available to those who want to be tan like the Jersey Shore cast. And, he strongly stresses for sun worshipers and tanning-bed regulars the importance of full-body skin cancer screenings by a dermatologist for early detection. Surgery is the best way to remove early melanomas, with later stages usually requiring more extensive treatment.
For more advanced stages of melanoma, Minni says Water's Edge Dermatology refers many of its patients to Martin Memorial Cancer Center in Stuart, Fla., for oncological opinions and access to the most-advanced options for treatment. Minni has been following the results of a patient he referred to the center with late-stage, nonoperable metastatic melanoma for palliative care, and has seen promising results with Roche's Zelboraf drug, approved by FDA just last August, in extending this patient's life.
"It's always great to add another weapon to the treatment toolbox," says Minni. "Similar to Zelboraf for melanoma, just this past January the FDA approved Erivedge to treat metastatic basal cell carcinoma and Picato to treat Actinic Keratosis (AK), a potential precursor to squamous cell carcinoma."
Minni added that the approval of Erivedge and Picato will be helpful, since basal cell and squamous cell skin cancers—although far less harmful than melanoma if detected and treated early—make up the majority of the 2 million new skin cancer diagnoses annually.
"Although it is great to have new medications, currently surgery—and especially Mohs surgery—is the golden standard for treating basal and squamous cell carcinomas," says Minni. "Pending the case, excisional surgery and radiation may be a better choice for select patients, but we are seeing incredible cure rates with Mohs surgery."
Mohs surgery saves the greatest amount of healthy tissue, appears to reduce the rate of local recurrence and has the highest overall cure rate — about 94 percent to 99 percent — of any treatment for squamous cell carcinoma, and generally, 98 percent or better for basal cell carcinoma, according to the Skin Cancer Foundation.
"Those are great cure rates, but what is even better is if you protect yourself from harmful UVA and UVB rays and prevent yourself from having to go through any skin cancer treatments," says Minni. "Skin cancer is one of the easiest cancers to prevent if you follow a few easy tips."
Side Bar:
Water's Edge Dermatology recommends the following tips to have fun in the sun and reduce risk for skin cancer at the same time:

Generously and regularly apply water-resistant sunscreen that has a sun protection factor (SPF) of 30 or more. Make sure the sunscreen is labeled as "broad-spectrum," indicating it protects against ultraviolet A (UVA) and ultraviolet B (UVB) rays. Reapply sunscreen every two hours and after swimming or sweating—and use it year-round.
Use extra caution when taking sun-sensitizing medications or are near water, snow and sand. Some over-the-counter medications, such as ibuprofen, and prescription drugs, such as antibiotics, can make your skin more sensitive to sunlight. Water, snow and sand can reflect and/or intensify sun rays, making it easier to burn.
Wear protective clothing, including long-sleeved shirts and pants, a wide-brimmed hat that provides more coverage than a baseball hat and UVA/UVB protective sunglasses.
Seek shade during the middle of the day, between 10 a.m. and 4 p.m., when the sun's rays are strongest, and try to schedule outdoor activities for other times of the day—even when it is cloudy.
Say no to tanning beds. Ultraviolet light from tanning beds can cause skin cancer. New self-tanning lotions and spray booths provide a tan without the risk of cancer.
Check your entire body routinely and report skin changes to your dermatologist. New growths, changes in existing moles or bleeding on the skin, require an immediate appointment with a dermatologist. Skin cancer is very treatable when caught early.
About Water's Edge Dermatology
Water's Edge Dermatology is a leading dermatology practice for medical, surgical and cosmetic skin care in Southeast Florida, specializing in skin cancer prevention and treatment. With its 16 locations and an experienced team of medical professionals, Water's Edge Dermatology provides patient-centered, compassionate care and serious medicine for the diagnosis and treatment of the most difficult cases. For more information, visit http://www.WeDerm.com.
# # #