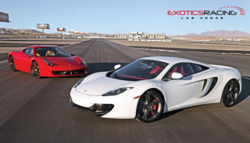 "We give people the rare opportunity to drive the McLaren where it was designed to be driven: on a racetrack," said Romain Thievin, co-owner and CEO of Exotics Racing Las Vegas.
Las Vegas NV (PRWEB) May 01, 2012
Exotics Racing Las Vegas enhanced their fleet of exotic cars today with the addition of a $250,000 white 2012 McLaren MP4-12C. Tourists and locals can drive the new McLaren as part of a Driving Experience package that includes classroom education, familiarization laps and one-on-one on-track coaching from a racing instructor. Packages for the 600-horsepower McLaren start at $399 for 5 laps, and include insurance with no security deposit required. Guests have the option of adding laps in one of Exotics Racing's other supercars, including various Ferraris, Lamborghinis, Porsches and Corvettes, as well as an Audi R8, a Mercedes SLS, a Nissan GT-R and an Aston Martin V8 Vantage.
"Exotics Racing is the only place in the world where you can drive the three best cars on the planet: the Ferrari 458 Italia, the Lamborghini Aventador and the McLaren MP4-12C," said Romain Thievin, co-owner and CEO of Exotics Racing. "We give people the rare opportunity to drive the McLaren where it was designed to be driven: on a racetrack," Thievin added.
Launched in late 2011, the MP4-12C is a successor to the McLaren F1. This completely redesigned, 100% British supercar is a rear wheel drive and powered by a mid-mounted 3.8 liter twin-turbo V8 engine. It features the McLaren ProActive MonoCell carbon fiber chassis, which is revolutionary due to its weight. The McLaren MP4-12C also features F1-inspired technology such as brake steer, which (along with traction control) brakes the inside rear wheel during fast cornering to reduce under steer and improve weight distribution. The car is also equipped with an air brake, which allows the brakes to work more effectively due to increased downforce. The goal of this system, and the extensive use of carbon fiber in the construction, is to keep the weight of the MP4-12C at a minimum. The car weighs just 2,868 lbs, a full 399 lbs less than its direct competitor, the 3,267 lb Ferrari 458 Italia. The drivetrain includes a 7 speed, dual wet clutch, Seamless Shift Gearbox (SSG) with Pre-Cog technology. These systems anticipate the selection of gears by driving pattern, resulting in a much smoother and instantaneous shift once the paddles have been fully pulled. With these advancements, the 2012 McLaren MP4-12C is reported to achieve 0-60mph in under 3 seconds and a top speed of 205mph.
About Exotics Racing Las Vegas
Exotics Racing makes the world's largest fleet of supercars accessible to Las Vegas tourists and locals. Guests visit the track from around the world to drive today's most exciting supercars with professional racing instruction on a private race track. The Driving Experience program integrates classroom education, familiarization laps and on-track one-on-one coaching from a racing instructor into one comprehensive, safe and exciting driving experience. Unlike other supercar experience companies, Exotics Racing's Driving Experience Packages include insurance, and no security deposits are required. Packages start at $199 for 5 track laps. High Speed Ride-Along packages are also available, in which guests experience the track as a passenger with a professional racing driver at the wheel.
Exotics Racing owns over 30 exotic cars, including Ferraris, Lamborghinis and Porsches. All of the cars are equipped with paddle shifters, making the Driving Experience accessible to drivers of all skill levels. Over 40,000 guests have participated in the Exotics Racing Driving Experience since the company launched in 2009.
Located approximately twenty minutes from the Las Vegas Strip, Exotics Racing's private 1.4 mile track includes eleven turns and a 1,800-foot straight. The track was designed by award-winning French stunt driver and racecar driver Romain Thievin and his team. Known for his work as Matt Damon's stunt double in The Bourne Identity, for which he won a Taurus World Stunt Award, Thievin launched Exotics Racing in Las Vegas in 2009. Thievin has worked on more than 150 movies and is a six-time racing champion, as well as the co-host of television show "Fast Club", which airs in France and Belgium. Thievin co-owns Exotics Racing Las Vegas with David Perisset, a former Lehman's investment banker.
Exotics Racing's private track and adjacent reception facility is located in the Las Vegas Motor Speedway complex at 6925 Speedway Boulevard; Las Vegas Nevada 89115, and is visible from the I-15 freeway. The track is open to the public Tuesday-Sunday, and is available for group and private events, including a Stunt Driving Experience in specially-equipped Mini Coopers. Corporate events are available for groups of 15 - 400 guests per day.
Details for the racing school can be found on http://www.exoticsracing.com or by calling (702) 405-7223.