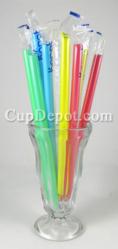 Coming in a diameter of 10mm, high quality Karat® Boba Straws are a must for drinks that contain add-ons such as boba, pudding, jelly, or fruit bits.
City of Industry, CA (PRWEB) May 01, 2012
As the month of May unfolds, CupDepot.com, a leading supplier of premium paper and plastic disposable products, keeps foodservice owners in mind as they wrap up the spring season. The month-long promotion is open to all shoppers seeking discount business supplies, restaurant supplies, cleaning supplies, and more.
This May, sip up the possibilities with CupDepot.com. For as low as $36/case, numerous Karat® Straws are available to match different cup sizes. Make sipping on a soda easier with Karat® Jumbo Straws. Measuring up to 6mm in diameter, jumbo straws are available in a variety of lengths and colors. Karat® Giant Straws have a diameter of 8mm and are individually wrapped. Available in various colors, these giant straws work well for thicker drinks like slushies, smoothies, and milkshakes. Coming in a diameter of 10mm, high quality Karat® Boba Straws are a must for drinks that contain add-ons such as boba, pudding, jelly, or fruit bits. Get more information on the complete Karat® Straw product line by visiting CupDepot.com. The possibilities are endless.
Keeping customers' needs in mind, CupDepot.com is adding a new size — 6oz, to their all-star line of Karat® Double Poly Paper Food Containers. Available in green or pink, the new 6oz Karat® Double Poly Paper Food Containers can be used for serving both hot and cold items like ice cream or oatmeal, or small items such as muffins or candies. Pricing of the 6oz paper food containers starts at $75/case. Also available in other sizes: 12oz, 16oz, and 20oz. Well-constructed from durable double poly paper, the entire line of Karat® Double Poly Paper Food Containers is designed to improve food presentation, reduce operator costs, and drive sales for to-go offerings.
Also highlighted this month are the high-performance, economical, and absorbent Karat® Napkins retailing for as low as $25.95/case. Available in white or kraft, Karat® Beverage Napkins available in 9" x 9" 1-ply are ideal for any light use application. Also be sure to take advantage of 15" x 17" white 2-ply Karat® Dinner Napkins that can be used for parties and banquets. Plus, Karat® Tall-Fold Napkins available in 13.4" x 7" 1- ply will add an elegant and professional look to any business event and conference. Furthermore, CupDepot.com offers the finest selection of custom printed napkins for hospitality-related businesses.
Simultaneously, more pocket-friendly deals on Karat® Cup Bundles are in store for loyal customers; at a low starting price of $98/case. Perfect for bar service or party needs, Karat® Clear Plastic PET Cup Bundles are made up of Karat® Clear Plastic PET Cups with the matching flat/dome lids. For those who need their morning cup of coffee, Karat® Paper Hot Cup Bundles are available in generic or white design and also come with matching white/black lids. May's promotions will also include Karat® Translucent PP Cup Bundles, Karat® Earth Clear PLA Cup Bundles, and Karat® Paper Cold Cups Bundles.
The May sale has been engineered to be simple for environmentally conscious business owners – CupDepot.com continues to feature 12oz Karat® Earth Clear Eco-Friendly PLA Cups (The Eco-Band Design) with a clearance price of $72/case. Made from Polylactic Acid (PLA), a bio-based plastic lining derived from corn, these PLA cups create the least environment impact per cup. Sold with 1,000 pieces per case, they are the perfect way to go green without going in the red.
Providing convenient tableware for special occasions and everyday use, CupDepot.com, a "one-stop-shop", enables foodservice professionals with an optimal solution to boost beverage sales, improve food presentation, control costs, and build their business.
About CupDepot.com
CupDepot.com is headquartered in City of Industry, California and is widely known as a wholesale of premium paper and plastics for the restaurant and foodservice industry. For more information, please visit CupDepot.com.