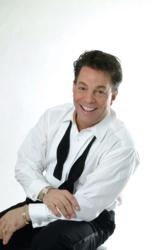 "Nature has blessed Steve Lippia with a set of pipes that conjure an astounding approximation of Frank Sinatra's voice."
Chuck Darrow, Courier Post
Toledo, OH (PRWEB) May 01, 2012
The Toledo Symphony will perform Simply Sinatra with Steve Lippia on Saturday, May 12, 2012 at 8PM at the Stranahan.
Tickets range from $22-62. For tickets, call the Toledo Symphony box office at 419-246-8000 or purchase online at http://www.toledosymphony.com.
"Lippia brings charm, grace and sophistication to the stage."
Phil Roura, New York Daily News
"Lippia belts out Sinatra favorites backed by a 17-piece orchestra as the audience hangs on every note.
Scott Kronick, The Press Of Atlantic City
"Steve is an excellent singer and entertainer and the quality of his performance was first-rate. The crowd loved him…"
Symphony Executives
Steve Lippia has become one of the most prominent, in-demand vocalists and has quickly established his place among the finest interpreters of "standards" and traditional pop music in the nation. Steve's youthful, energetic talent and powerful show creates a perfect blend of "classic" with "today". His show introduces a new generation to this timeless music, while appealing to long-time listeners.
Steve has headlined in highly successful, extended engagements at the Rio SuitesHotel and Casino in Las Vegas and Resorts Hotel and Casino in Atlantic City, where SRO audiences lined up more than two hours before show time to vie for seating. He has performed in multiple engagements for Hilton Atlantic City and Casino Windsor, among others.
Steve has recently performed to sold-out audiences with many major symphonies across North America, to name just a few, Peter Nero and The Philly Pops, Toronto, Rochester Philharmonic, Palm Beach Pops, Indianapolis, Oregon, Irving, Austin, Calgary, Naples, Tacoma, Alabama, Greensboro, Hilton Head, North Carolina, Winnipeg, Tucson, Duluth-Superior, Allentown, Lexington, Grand Rapids, Louisiana, Colorado, York, Jacksonville, Edmonton, Vancouver, Charlotte, Bowling Green, Danville, Virginia, Fort Worth, Shreveport, North Arkansas, Corpus Christi, Kansas City, Cleveland Pops, Mississippi, Chattanooga, Missouri, Southwest Michigan and Brampton-Ontario, Amarillo, Great Falls, Columbus Indiana, New Haven, Las Cruces, Dayton, Boulder Philharmonic, Huntsville, Signature-Tulsa, West Michigan, New Jersey Hartford, Akron, Quad City, Saint Louis, Phoenix Fresno, Napa, Evansville Knoxville, Richmond, Buffalo, Lafayette, Cape Cod, Portland ME and Ocean City Pops.
He currently has signed contracts with symphonies for the 2010-2011and 2011-2012 seasons with San Antonio, Tucson, Louisville, West Michigan, Harrisburg, Winston-Salem, Battle Creek, Stockton, Omaha, Orchestra Kentucky, Kansas City, Elgin, Utah, Rockford, Kingston, San Angelo, Toledo, North Carolina, Albany and Indianapolis.
###