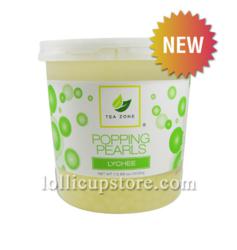 Tea Zone® Popping Pearls, on sale for only $19.95/jar, will come in various flavors including Lychee, Mango, Strawberry, Orange, and Yogurt.
City of Industry, CA (PRWEB) May 01, 2012
Summer is right around the corner, and LollicupStore.com, a leading online syrup retailer, is adding more refreshing treats to fit the season. For the month of May, LollicupStore.com is rolling out a number of irresistible offerings that will keep foodservice businesses running easily and efficiently.
What better way to celebrate warmer months than by whipping up a tasty smoothie? Monin Fruit Smoothie Mixes, a perfect fusion of fruit and essential vitamins, can even be created at home. For only $6.95/carton, these ready-to-blend fruit smoothie mixes provide a healthy solution to customers without losing any nutritional value; they are made with only natural ingredients, gluten-free, contain no artificial flavors, colors, or preservatives. Start this summer early with Monin Fruit Smoothie Mixes available in Mango, Peach, Wildberry, Strawberry Banana, and Strawberry.
Starting May 1 – 15, Torani Chocolate Sauce (64oz) and Torani Chocolate SugarFree Sauce (64oz) come in a new compact shape; their latest packaging allows for increased product quantity per pallet by reducing packaging waste throughout distribution channels. For as low as $9.50/bottle, Torani new sauce bottles are designed for operators to reduce shipping costs and storage. Also, be sure to try the new convenient pump designed for new sauce bottles available at LollicupStore.com. From May 16 – 31, Torani Real Fruit Smoothie Mixes will be in the spotlight. Available in delectable flavors like Superfruit and Strawberry Lemonade, Torani Real Fruit Smoothie Mixes are a pour-and-blend product made with real fruit; they make it easy to blend creamy milkshakes or fruity smoothies in under a minute.
All through the month of May, LollicupStore.com is extending Tea Zone®'s menu line-up to meet restaurant industry demands. Starting May 1 – 15, Tea Zone® Popping Pearls, on sale for only $19.95/jar, will come in various flavors including Lychee, Mango, Strawberry, Orange, and Yogurt. These pearls contain concentrated fruit juice in agar shells that "burst" in your mouth when chewed on. Tea Zone® Popping Pearls can be used with regular boba or as a substitute to boba in drinks, and work perfect with desserts like frozen yogurt and ice cream. Featured from May 16 – 31 are Tea Zone® Fruit Syrups for as low as $8.50/bottle. Available in an array of popular flavors such as Mango and Green Apple, these fruit syrups are specially formulated for making refreshing cold beverages.
With a multitude of beneficial qualities, Monin Organic Syrups starting at $6.50/bottle excel as a sweet choice for supporting abundant good health. Available in an environmental friendly, USDA certified organic formula, Monin Organic Syrups make a great complement to soy lattes and mochas with no additives or preservatives; they are also GMO free and gluten free. Available in Hazelnut, Caramel, Chocolate, Raspberry, and Vanilla, Monin Organic Syrups are ideal for discerning coffee drinkers who are living a sustainable lifestyle.
Dr. Smoothie's 100% Crushed Whole Fruit Purees and Classic Purees are healthy products that ensure customers get enough fruits in their daily diet. Available in various flavors such as Northwest Red Apple and Mango Tropics, 100% Crushed Whole Fruit Purees aim to enhance health through all natural fruit smoothies. Prices start at $12.00/bottle. Also be sure to explore new flavors from Classic Purees with a starting price of $10.25/bottle. All Dr. Smoothies products feature no high fructose corn syrup, no artificial colors, flavors or preservatives, and are enriched with an assortment of vitamins and minerals. Just in time for May, LollicupStore.com provides optimal healthy product choices made to be functional for your body, not just your taste buds.
About Lollicup® USA Inc.
Lollicup® USA Inc. is headquartered in City of Industry, California and is widely known for retailing bubble tea drink products under the Lollicup® Coffee and Tea and Lollicup® TeaZone® brands. Lollicup® USA Inc is also the largest distributor in the United States for premium Italian Torani syrups and sauces.