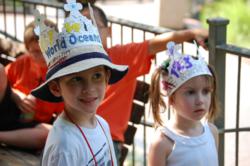 By participating in the World Oceans Day event at your local AZA-accredited aquarium or zoo, you are helping to support conservation locally and worldwide
Silver Spring, MD (PRWEB) May 08, 2012
The Association of Zoos & Aquariums (AZA) invites the public to dive in to ocean conservation on June 8th, World Oceans Day. As leaders in ocean conservation education and science, AZA-accredited aquariums and zoos are the perfect place to connect with nature and ocean conservation in local communities.
The world's oceans cover 70% of the Earth's surface and are facing threats including pollution, habitat damage, overfishing, coral reef bleaching, and species loss. AZA-accredited aquariums and zoos play a critical role in research, education, advocacy, and action to address these threats.
"By participating in the World Oceans Day event at your local AZA-accredited aquarium or zoo, you are helping to support conservation locally and worldwide," said AZA's Senior Vice President of Conservation Paul Boyle.
WHO: YOU and your AZA-accredited aquarium and zoo
WHAT: World Oceans Day
WHEN: June 8th, 2012
WHERE: To find the World Oceans Day celebration nearest you, please visit http://www.aza.org/world-oceans-day.
CONTACT: Elise Waugh, AZA
(301) 562-0777 x236
AZA invites families who are passionate about education, and interested in learning more about wildlife conservation, to enter the Rhythm of Conservation Sweepstakes.
From April 1st through June 15th, families can enter the Sweepstakes online at the official Rhythm of Conservation Sweepstakes website and return once daily to enter again and learn about a different animal each day. On the site, visitors may also browse interactive educational activities and lessons about conservation.
About AZA
Founded in 1924, the Association of Zoos and Aquariums (AZA) is a nonprofit organization dedicated to the advancement of zoos and aquariums in the areas of conservation, education, science, and recreation. Look for the AZA logo whenever you visit a zoo or aquarium as your assurance that you are supporting an institution dedicated to providing excellent care for animals, a great experience for you, and a better future for all living things. AZA is a leader in global wildlife conservation, and your link to helping animals in their native habitats. For more information, please visit http://www.aza.org.