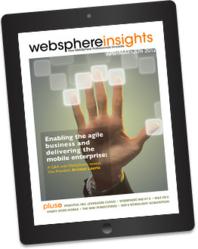 WebSphere Insights provides readers with expert advice and insight, success stories, and experiences from executives, leading companies, and strategic partners to help customers make educated, sound decisions.
Dedham, MA (PRWEB) May 01, 2012
From the show floor of IBM Impact 2012 in Las Vegas, Wellesley Information Services, the publisher of SAPinsider and manager of the Global WebSphere Community, proudly announces the debut of WebSphere Insights, a quarterly digital magazine dedicated to helping IBM WebSphere customers maximize the ROI of their technology investments. Readers can access WebSphere Insights as a free Web app optimized for the iPad. Download the Web app to read the premiere issue at http://www.websphereinsights.com.
Focusing on strategic coverage, in-depth case studies of WebSphere customers will be at the heart of every issue. Company executives will share details of their projects; what worked and what didn't. The inaugural issue features insights from Ipswitch, Inc's journey to successfully leverage a cloud solution to integrate its CRM and ERP systems across three company divisions to create one unified CRM solution and a 360°-degree view of the customer.
WebSphere Insights also takes an inside look at how the Visiting Nurse Service of New York (VNSNY) developed a reliable and functional mobile network to make its nurses more efficient while delivering care to thousands of home-based patients in NY. Both Ipswitch and VNSNY were honored with the 2012 Global WebSphere Community Customer Recognition Award.
Also featured in WebSphere Insights, leading IBM executives will share their insights in regular Q&As. In the debut issue, Kristen Lauria, WebSphere's newest VP, talks with WebSphere Insights about her goals for 2012 and what the future will bring for IBM WebSphere customers.
Industry experts will give guidance and direction in each issue. The premier issue includes articles on just-announced releases of WebSphere Application Server V8.5 and WebSphere MQ V7.5, plus features on the new IBM PureSystems and the IBM acquisition of Worklight. "WebSphere Insights gives readers a comprehensive and strategic look at the WebSphere market so they can make smart, sound, WebSphere decisions without wasting time searching for the information," says Sarah Cenedella, Senior Director, WIS.
Between the quarterly issues, subscribers can stay on top of the latest happenings in the WebSphere market with the #SOCIAL page. This is a dynamic section of the magazine that combines aggregation technologies with direct editorial input to present an up-to-the-minute look at the IBM WebSphere market.
In the coming months, WebSphere Insights will add a robust website. It will feature bonus materials for subscribers which will include videos, podcasts with industry thought leaders, and other assets that will complement each article.
About WebSphere Insights
WebSphere Insights is an independent digital magazine dedicated to helping IBM WebSphere customers make educated, sound decisions to get the most from their technology investments. The free Web app provides access to the quarterly issues, as well as the dynamically-updated #SOCIAL page.
About Wellesley Information Services
Wellesley Information Services (WIS) is the premier independent provider of IBM, SAP, Web design and development training and education supporting more than 250,000 business and IT professionals in 100 countries. http://www.wisinc.com
Media Contact:
Sarah Cenedella
Director, WIS
sarah(dot)cenedella(at)wispubs(dot)com
781-751-8610
@WebSphereMag