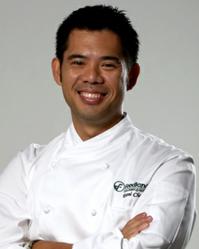 I am proud to be part of a growing segment of the culinary industry. What we do is not completely new, but our efforts are now starting to get the recognition it deserves.
Dallas, TX (PRWEB) May 03, 2012
The Supermarket Chef Showdown is the first-ever food retail industry recipe challenge, recognizing the inventive, palate pleasing meals supermarkets create every day for their neighborhoods.
"After 357 submitted recipes, 20 chef finalists, four category champions and one Grand Chef, we are thrilled that FMI could provide our industry's culinary stars a stage on which to shine," said Leslie G. Sarasin, president and CEO of FMI.
In addition to the $1,000 category prize, the Grand Chef receives admittance to a professional development course at the Culinary Institute of America (CIA).
Of the 20 finalists invited to Dallas to battle it out, four chefs rose to the top in the judges' minds (and stomachs) based on the following criteria: 1) Flavor (1-20 points), 2) Presentation of Food (1-20 points), 3) Creativity (1-20 points), 4) Consumer Appeal (1-20 points), 5) Showmanship (1-20 points).
Below is a list of the other three category winners, along with their recipes:
Chef Brian Dunn of Roche Bros. Supermarkets with Indian Five Spice Lamb
Chef Rachael Perron of Kowalski's Markets with Spiced Orange Yogurt Parfaits
Chef Amber Pruett of Publix Super Markets, Inc. with Italian Pie
For Media:
To capture the action on Flickr, visit here.
Watch the Ustream recap here.
Meet the judges of Supermarket Chef Showdown here.
Read Keoni Chang's bio here.