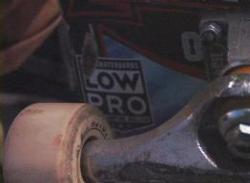 "Skate hard goods have been so similar throughout the years, it's nice to see a change towards lighter and stronger products."
Annapolis, Md (PRWEB) May 08, 2012
All too often companies in the skateboarding community produce new products that are portrayed as the future of skateboarding technology. Just as fast as these new products come, they go, and skateboarding is left unchanged. This has been true thus far, but lately the staff at Pure Board Shop has noticed an increase in customers interested and willing to experiment with new skate technology. This interest and willingness has in turn brought positive feedback from Pure's customers.
One of the new advancements in board technology that can be found at Pure Board Shop are Theeve trucks. Theeve trucks is a fairly new truck company that came about in 2007. They offer a complete line of skateboard trucks made out of titanium, a material that has the highest strength to weight ratio of any metal and is 40% lighter than steel, the traditional material of skateboard trucks. Theeve's material of choice results in the rider having a less chance of axle bend and a truck that is unquestionably lighter than the traditional steel constructed trucks. Pure skate team rider Christian Battung recently switched to Theeve brand trucks and immediately noticed a difference with his setup. After just one day of skating Theeve trucks Christian questioned if he would ever ride anything else.
Another example of the latest board technology that pure offers are new low pro decks from Real skateboards. Just a couple weeks ago, Pure got a shipment in of several low pro decks and now they are left with just one low pro deck. Real skateboards' low pro series feature boards that are center pressed with a slight nose to tail rocker, as a result of this construction the boards center of gravity is lowered for more control and quicker pop. These low pro boards also claim to be lighter which is attributed to a slightly tighter radius side to side concave, which allows for two custom milled thinner x-bands that reduce weight. These x-bands not only reduce weight, but also strengthen the deck which makes it last longer and keep it's pop. The employees behind the skate counter at Pure Board Shop say they haven't heard too much feedback concerning the lightness of these low pro decks, but almost all of the customers who have purchased the low pros have said they noticed the board lasted longer and seemed to still have pop longer. Another reason customers of Pure seem to like these boards is they are no more expensive than the average skateboard deck, unlike some other decks that have extra features. Between the life span of the board and it's cost, Real's low pro decks have won over many of the parents and skaters who shop a Pure, who see more value in purchasing a deck which will last longer. Many of Pure's customers who have bought the low pro decks say they plan on buying another one of these decks again.
Theeve trucks and Real skateboard's new series of low pro decks are just two examples of skateboard technology Pure Board Shop is bringing to the Annapolis area. Pure also carries decks with advanced technology from other brands, such as Almost skateboards' double impact decks or Flip skateboards' p2 constructed decks. Other truck brands with similar features as Theeve trucks that Pure carries include Thunder trucks hollow lights and Tensor magnesiums. According to the staff at Pure, the feedback on these advanced skate hard goods has been positive and demand has been on the rise.