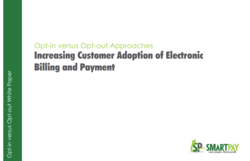 It can be a difficult for businesses to know which approach to choose.
Fargo, ND (PRWEB) May 01, 2012
It is becoming more and more common for companies to offer online billing to customers. However, many businesses are having difficulty deciding what is the best way to implement an electronic billing system. SmartPay would like to present a new white paper, "Opt-in Versus Opt-Out Approaches." The report is a comparative analysis of adoption techniques and the effectiveness for customer migration.
It is clear that businesses should make electronic billing and payment options available to customers. After deciding to implement EBPP, the question becomes how to approach migrating customers from a traditional paper process to an electronic paperless process. The white paper compares two users of their electronic bill presentment and payment system and their approaches to implementing customer adoption to EBPP. "We wanted to show the impact each option had on a company's adoption rate and finances," said Tami Dowers, SmartPay's Marketing Director. "It can be a difficult for businesses to know which approach to choose."
With most electronic bill presentment and payment systems, businesses have one of two choices for their customers. The first is opting out of the online bill and receiving a paper bill. The second choice is giving customers the option to opt-in to receiving their bill electronically. The report by SmartPay gives insight on these two choices. "This information is valuable to those who are just beginning to implement an EBPP or are having difficulty getting their customers to migrate to online," says Dowers.
For a copy of the full report, please visit http://info.gosmartpay.com/opt-in-versus-opt-out-a-free-download.
SmartPay is a powerful, flexible, enterprise-level online billing system designed to save your business time and money. SmartPay is a Cloud Based Electronic Bill Presentment and Payment Sass Solution suitable for medium to large businesses. It allows an increase in cash flow by sending large batches of invoices and statements electronically while increasing accuracy and customer satisfaction by allowing customers to pay online easily and securely. For more information about SmartPay, please visit http://www.gosmartpay.com or call 1.866.667.4277. Twitter @_SmartPay_