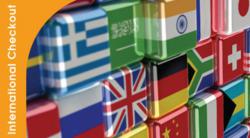 Van Nuys, CA (PRWEB) May 04, 2012
International Checkout, Inc. today announced that it has partnered with Z Gallerie to enable the home furnishings, art and accessories store to serve customers globally without risk or difficulty.
By outsourcing the operational challenges of international shipping, customs documentation, compliance, and clearance, currency conversion, customer service and returns management to International Checkout, Z Gallerie is able to enjoy a new revenue stream without any significant difficulty or change to their domestic operations. Additionally, International Checkout offers a broad array of payment options to its international consumers while assuming all risk of fraud and currency fluctuation.
"International Checkout is a great partner that has enabled Z Gallerie to extend our reach globally," said Mike Zeiden, Chief Operating Officer. "Our merchandise is loved by so many people here in the United States and those that visit that we are excited to showcase our exclusive products to more people in more countries and deliver it to their doorstep and it's important for us to work with a reputable company that handles the transaction from start to finish seamlessly."
Consumers around the globe can now shop at ZGallerie.com, add items ranging from candles to sofas to the online shopping cart, and with the click of an International Checkout button, the shopping cart is seamlessly transferred to International Checkout. There customers receive an all-inclusive price quote in their local currency, including the option to prepay duties and taxes at a guaranteed rate, and complete their purchase. International Checkout assumes all risk of fraud and fluctuation in currency exchange rates. International Checkout prepares the products for export and ships them to the customer's doorstep - virtually anywhere in the world.
"International consumers are becoming more and more comfortable purchasing goods from the U.S. online," says International Checkout CEO and President, Saskia Chiesa, "especially when they recognize a name they can trust. We have been fulfilling orders around the globe for nearly 10 years and serve more than 1200 U.S. retailers. That record does a lot to boost consumer confidence. We are thrilled to help Z Gallerie gain access to international revenues."
About International Checkout
Since 2003, International Checkout (IC) has been providing retailers access to the billions of dollars spent online by international consumers. More than 1200 U.S. retailers have partnered with IC, enjoying an immediate increase of revenues. The innovative global e-commerce solution is easy to implement and virtually cost free with a streamlined and sophisticate customer experience, making it accessible and desirable to retailers from the mom-and-pops to the big-boxes.
About Z Gallerie
Founded by Joe, Carole (Malfatti) and Mike Zeiden in 1979, Z Gallerie began as a small poster shop in Sherman Oaks, CA. Together the siblings operated the store during the day and framed posters at night in their parent's garage while dreaming of stores that carried more than just poster art. Their vision was to put forth a collection of fashion forward and exclusive home furnishings, art and accessories at an affordable price. Today, more than 30 years later Z Gallerie stores are en ever-changing combination of stylish, traditional and contemporary designs. With 56 locations across the United States and an online presence, Z Gallerie, still lead by Joe, Carole and Mike, continues to inspire both professional and amateur interior designers alike. The company is headquartered in Los Angeles with additional buying offices in Berkeley.