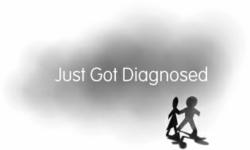 A chronic condition has a way of giving us a push to look at life in a different way, whether we are the one are experiencing the illness or a family member.
New York, NY (PRWEB) May 01, 2012
Dr. Gary McClain has published a new article as part of his Chronic Communication series. The article, "Take a look at those family dances," will be published on his Website, JustGotDiagnosed.com and on AllianceHealth.com. A specialist in the emotional impact of chronic and catastrophic illnesses, Gary McClain, PhD, developed JustGotDiagnosed.com to address a serious need he saw going unfulfilled; namely, a way for newly-diagnosed patients to receive help in coping with their emotional reactions to their diagnosis.
"Family communication can look a lot like dancing," McClain said. "The music plays in the background while everyone steps to the rhythm, using the moves that they have learned over the years. When one family member is diagnosed with a chronic illness, this can shake up those dance routines. A chronic condition has a way of giving us a push to look at life in a different way, whether we are the one are experiencing the illness or a family member."
McClain provided examples of how the family dances are affected by chronic illness. "Family members have to get involved with each other in ways they never expected to. Maybe the 'rock' needs the emotional support, and can't jump in to help everybody else with their emotions. The givers have to do some taking. The takers have to give. The "listened to" have to do some listening."
In his article, McClain provides guidelines for creating positive change in family communications:
1. Recognize your family dances. Take a look at how you communicate with other family members. Identify the family dances, the ones that make for a positive relationship and the ones that seem only to cause pain, over and over and over.
2. When the music starts, pause before you jump in. Ask yourself, is this a pattern that helps us to communicate better – that promotes teamwork and harmony – or one that gets in the way of communication. That might also mean, don't take the bait. Responding to a criticism with "I understand how you feel" or "Let's let go of that" can take the conversation in a new direction.
3. Suggest some new steps. Maybe it's time for someone to lead the way away from those familiar but destructive dances. Decide to lead and not follow. Focus in on the issue. Identify what the other person seems to be doing Ask: "Can we look at this another way and not automatically assume…?" or "How about if we stop… and try to be show more concern for each other?" Or maybe, "How can I help?"
4. Keep the tempo upbeat. Family dances are often anything but happy. You can change the tempo by staying optimistic and positive. Stay open to what's possible instead of what seems impossible. Assume the best of intentions in other family members.
5. Remember that it may take time to learn new steps. A chronic condition is uncharted territory for everybody in the house. A learning curve all the way around. Be patient with yourself, and it will be a lot easier to be patient with everybody else. Compassion is a boomerang – send it out and it comes back to you.
"Chronic conditions demand that we take a look at how we are living and create changes that promote well-being," McClain emphasized. "Family communication is a critical element in your self-care. Take care of yourself, take care of your relationships."
About Dr. Gary McClain and http://www.JustGotDiagnosed.com
Dr. Gary McClain is a licensed counselor, educator, life coach and author who specializes in working with individuals who have been diagnosed with chronic and catastrophic medical conditions, focusing on issues that include coping emotionally, gathering information, making lifestyle and treatment decisions, managing relationships, and communicating with healthcare professionals. As "Dr. Gary," he blogs on patient social networking boards on http://www.AllianceHealth.com. Founded and developed by Dr. McClain, JustGotDiagnosed.com offers information, guidance and inspiration for newly diagnosed patients, their caregivers, and healthcare professionals. His program for newly-diagnosed patients, Prepared for the Road Ahead ™, is focused on the emotional, lifestyle management, communications, and vision for the future. Visit http://www.JustGotDiagnosed.com.