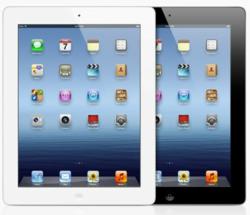 (PRWEB UK) 4 May 2012
It is universally accepted that the launch of the third-generation Apple iPad has been a resounding success so far, although the official figures have still not been released to quantify this.
Analysts predict that global sales of the iPad during the first quarter of 2012 may have reached as high as 15.6 million units (including sales of previous models). Even conservative estimates place sales at about 9 million so that the revenue for Apple is certainly impressive.
The reason behind the popularity of the latest tablet computer is not just down to the increased specifications of the model, but the fact that consumers are coming round to the idea that these devices bridge the gap between a desktop and smartphone just perfectly.
With a 9.7 inch LED-backlit glossy widescreen Multi-Touch display, a choice of storage options from 16 to 64GB and Wi-Fi / 4G versions to select between, the benefits of having a larger gadget for when people are on the go have resulted in skyrocketing sales of the iPad.
There may be no official data to substantiate how many units have been sold here in the UK, but the buzz generated by the release of the tablet does not seem to have died down just yet. Customers can pick up one of these exceptional devices online through the Apple Store or by making use of voucher codes instead.
When people choose the latter of these options, they may even be able to save money on the device itself or accessories, simply by using these money off coupons and discount codes.