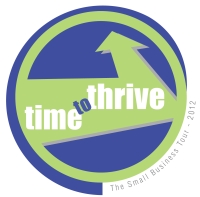 Owners who understand some of the concepts we're talking about on The Tour will definitely be ahead of the curve
Bellevue, WA (PRWEB) May 02, 2012
After launching in Seattle on April 12, The Small Business Tour is stopping Houston on June 7th. The Tour gives small business owners an opportunity to learn from national brands and local experts about the transformative technologies available to run a thriving small business. Agenda topics focus on subjects most important to small business owners: Money, Growth, Customers, and People.
The Small Business Tour is hosted by Corelytics, Inc. in partnership with small business technologies leaders including Intuit, Microsoft, Concur, Cisco and Constant Contact. The Small Business Association (SBA) is participating in the event along with business experts, bankers and authors including best-selling author, Chris Widener, who is emceeing each event.
Over 100 companies participated in Seattle which set the standard for subsequent cities on the tour.
Attendees received:

Insight about what's changing the future of their business
Free Corelytics Financial Health Check Report
Extended trials to TripIt and Concur Small Business for their 21st Century Expense Policy
Best practices around social media campaign management from Constant Contact
One free iPad per city and Connected World Order Report from Cisco
All participants received a comprehensive How-to Pocket Guide to Running a Thriving Business
"Small Business 3.0 represents a new way of accelerating business. I think as small business owners, we all sense this major change and just need to know what to do about it. The owners who understand some of the concepts we're talking about on The Tour will definitely be ahead of the curve," said Frank Coker, Corelytics CEO and organizing company for the tour.
Small business owners can participate in the event by:

Listening via Internet at http://www.thesmallbusinesstour.com/live
Joining the Main Street Meetup – a free networking event
Participating in the MainStreet Tweet-Up #smallbiztour12
Becoming a sponsor – the Tour is still open to local businesses who want to showcase their business in the Main Street Meet Up – contact tony(at)coreconnex(dot)com for more information
After Houston, The Tour will also make stops in Boston, Greensboro, Los Angeles, San Francisco, Dallas, Denver, Atlanta, Philadelphia, New York and Chicago. Complete dates and venues will be published on http://www.thesmallbusinesstour.com.
It's estimated that more than 200 small business owners will participate in each upcoming city and the online community outreach is expected to reach 100,000 or more.
ABOUT CORELYTICS
Corelytics, Inc is the host and sponsor of the Small Business Tour. Corelytics created the award-winning Corelytics Financial Dashboard for small businesses to help predict the future of their business- no MBA required. The Corelytics Financial Dashboard is a SaaS product that connects to the customer's accounting system and in a matter of seconds uses the power of predictive analytics to produce a comprehensive set of graphics that shows the entrepreneur how their business is performing - in a simple and easy-to-understand graphical presentation.
Corelytics has 1,000+ customers in 28 countries with 20+ channel partners and a network of 50+ business advisers and recently recognized as the grand prize winner by Intuit, Inc. in their Intuit Apps Marketplace. The easy-to-use dashboard that helps business owners compare their financial performance with peers in their industry. Priced at $69 a month and available on the Intuit Marketplace, Corelytics is an affordable solution for businesses to monitor trends before they become problems – all using a recommended 30-Minute Monthly Action Plan.
For additional information please visit: http://www.corelytics.com or call (866) 221-8394. For press inquiries: please contact Kris Fuehr: Kris(at)corelytics(dot)com