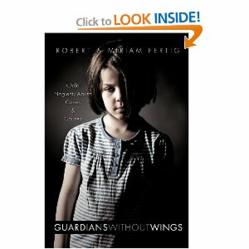 The root cause of the child problem is about the lack of family morals in society, judges who are too soft or too hard, bad role models, and lack of faith!
Clearwater, Florida (PRWEB) May 02, 2012
Xulon Announces "Guardians Without Wings" by Robert and Miriam Fertig; A true story about how the system of justice works to protect our children based on author cases.
Guardians Without Wings by the Fertigs says, "We call them Without Wings, because they lack sufficient resources and government financial support to perform this vital work to protect and save our children."
What are the key causes of parental failure in the author's opinion?
1. Lack of child love by their parents; if you have not been loved, can you love?
2. Poor early childhood moral development (with little or no faith in God).
3. Lack of children responsibility toward other family members.
4. Influence of negative role models and peer groups, in our schools and society.
5. Appalling media influence on adult and children's values.
"Our Constitution was made for a moral and religious people. It is wholly inadequate to the government of any other." -- John Adams
"We believe that all children are born innocent and lovable! It is the parents, the role models, peer group pressure, some secular teachers, and generally the 'culture of death,' that have caused too many of these children to grow up to become dysfunctional adults, and in many cases, appalling parents. What do we mean by 'a culture of death' in society? It is about our growing divorce rates (52%); abortion-on-demand (50 million in America, 100 million girls in China, bese on reports by The Economist); rising euthanasia trends; unmarried 'paramours' who avoid responsibility for their children; and the epidemic of illegal drugs and 'pill mills' is now upon us," according to Robert and Miriam Fertig.
This research was done by these Guardians, based on actual case experiences, that not only exposes many of the root causes of the problem, but also proposes realistic solutions.
Reviewed by Thomas Woodward (Ph.D, University of South Florida), Professor of Trinity College. Founder and Director of the C. S. Lewis Society, in Florida.
"Guardians without Wings is an eye-opening, heart-wrenching, information-packed guide to the world of families in crisis and the crucial role of Guardian ad Litem. Written in a conversational style, it can be blunt and feisty at times, but it is always enlightening. I found myself shocked on one page, and then extremely edified and encouraged on the page that followed. Any book that is so provocative and stimulating will occasionally ignite a mental mini-debate between reader and author, but this is part of the 'fun and education,' that comes from a book this stimulating, that penetrates mind and heart at the same time. Highly recommended."
Now available from Xulon Publishers, from all major book stores, and from AmazonKindle.
All royalties from this book will go to support these children, faith-based, and the Guardian ad Litem program.