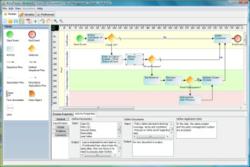 Chicago, IL (PRWEB) May 02, 2012
AccuProcess, a provider of innovative business process modeling software, today announced that it has released and made commercially available its leading AccuProcess Business Process Modeler product for the Apple Mac OS X operating system.
Business Process Modeling, one of the fastest growing areas of enterprise technology, is valuable to companies wishing to stay competitive by improving efficiencies of their business processes. The business process analysis market is predicted to reach $2.5B in 2012 and is growing 25% annually, according to a leading research firm. The AccuProcess Modeler is the easiest, affordable and most powerful business process modeling software on the market.
"We are thrilled to be the first provider of business process modeling software for the increasingly popular Apple Mac OS X," said Deepak Singh, President of AccuProcess. "Regardless of our customer's choice of operating systems, AccuProcess provides them the flexibility of using our easy-to-use yet powerful software on the platform of their choice."
Some of the key features of the AccuProcess Modeler are:

A trial version of this software is available for free download at the AccuProcess website. To learn more about the AccuProcess product please visit our website.
About AccuProcess
AccuProcess provides business process modeling software that has helped to improve business processes at hundreds of companies. The AccuProcess Modeler is a visual, easy-to-use solution for organizations to design, document and analyze business processes easily and affordably. AccuProcess Modeler is designed for companies of any size and users at any level of expertise. Learn more at http://www.accuprocess.com