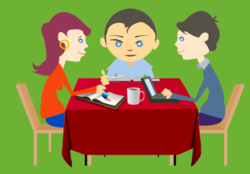 There is no need to fight it alone, now people can simply turn on the computer and connect virtually with someone who is as invested in their future as the person searching for a study partner
Pittsburgh, PA (PRWEB) May 01, 2012
In 2011, median family income for people with a bachelor's degree or higher was greater than $30,000 more than those with an associates degree. It has never been more important to earn a college degree than it is now. Long gone are the days where a smile and knowing the right person would offer a job. Today, with the unemployment rate hovering near 10% nationwide and more and more people competing for the same job, pursuing a higher education is paramount. The benefits of having a degree are well known - a greater chance of landing a promising job, decreased dependency on public assistance, and financial stability of the family. What's not known is just how easy getting into one of these programs can be if one has the right tools. That's where My Study Partner comes in - no matter if one is studying for the SAT, ACT or LSAT, their website will help match with a person in the same situation so both of the study partners can succeed. There is no need to fight it alone, now people can simply turn on the computer and connect virtually with someone who is as invested in their future as the person searching for a study partner.
Pursuing an undergraduate or graduate degree is all about motivation - people need to be motivated to fill out the applications and more than anything motivation is required to study for the entrance exams. Exams like the GMAT and MCAT not only help determine how prepared one is, they dictate what caliber schools aspirant can apply to. And just like a job interview, the preparation for these exams can be grueling. Luckily, this technology makes it a lot easier, it allows individuals to connect with people from all over the world to motivate each other.
The beauty of this tool is that it allows to prepare for any and all entrance exams using the group study method, meaning an aspirant can have a support system of his choice. Here's how it works: determine the exam to be taken, browse through a list of people looking to study for the same exam, and then choose the people to study with. After connecting with the study partner(s), one can choose how best to help each other- maybe its via Skype, in person or maybe its just using email to bounce ideas back and forth and check practice exams. The possibilities are endless, but My Study Partner could not make the process easier.
With a few clicks on their website, one can start studying effectively for the GRE or USMLE with someone that has the same goal: to get accepted into the best school possible. And to top it all off, this tool is offered at no cost! With this process being so easy, the real question is why have so many people waited to so long to secure their future.
People targeting to build a solid career, and to find a new study partner can learn how it works at http://www.mystudypartner.com/HowItWorks.
Website tour is available at http://www.youtube.com/watch?v=TMXr5ycZDHY
Visit their website today to learn more, and get started on the path to secure your future.