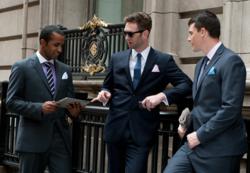 7RL provides custom fitted luxury within reach of every man.
Philadelphia, PA (PRWEB) May 01, 2012
We are pleased to announce a new player in the made-to-measure men's formalwear space. 7 Regent Lane (7RL) provides high-quality custom-fitted suits at price points competitive with off-the-rack offerings.
7RL was inspired by the belief that custom tailored suits should not be reserved for the select few. The 7RL launch collection consists of three collections of suits in various fabric colors and patterns. All 7RL suits are made of high quality wool and cashmere blends.
Detailed measurement instructions are provided on the 7RL web site (http://www.7regentlane.com) and instructional videos are available to ensure that any man can properly measure himself for a perfectly fitting suit. 7RL's Flawless Fit Guarantee provides complete protection to the customer. Should minor alterations be required, 7RL offers a generous alteration reimbursement. If any 7RL suit is deemed un-alterable by the customer's tailor of choice, the suit will be remade at no charge.
Each 7RL suit can be customized with a variety of options including several lapel and pocket styles, hacking pockets, pick stitching and slim or classic fit. Regardless of body type, each 7RL suit can be made to make every man stand a notch above or two above the crowd.