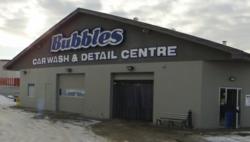 Clean drinking water can be provided to someone in a third world country for as little as $0.01 per day.
Kelowna, CA (PRWEB) May 01, 2012
There are approximation 1 billion people on the planet who do not have access to clean drinking water. Wash Away Thirst is an independent group of car washes from across the world that have united to tell people about the desperate need of clean drinking water and rectify this. They teach the importance of water conservation in the car washing industry and donate money to provide clean drinking water to people in need. Bubbles (http://Bubbles.ca), one of the most popular car wash and detailing centers in Edmonton, Calgary, and Kelowna, is proud to be the first auto detailing center in Canada to join this worthy cause.
It is a common belief that it's a near impossible endeavour to provide this magnitude of help, after all a small bottle of water at the grocery store costs $1.99. However, that is not the price structure used to provide water to someone in need. Surprisingly, as Bubbles explains, supporting people without local clean water can be very affordable, "Clean drinking water can be provided to someone in a third world country for as little as $0.01 per day."
Just how much does participation in this program help? Bubbles Car Wash had this to say, "Approximately 80% of the world's known diseases are attributed to the lack of clean drinking water and as a result, a child dies every 8 seconds. You could help prevent the spread of disease and save the lives of children across the globe by participating in this effort."
In addition to helping children, programs that provide clean drinking water supports the healthcare system overall. The money spent to provide clean drinking water will return to a much larger amount saved. Based on the Millennium Development Goals of the United Nations, for every $1 spent on providing clean water, $7.43 is saved in health care costs from preventing the spread of death and disease.
Individuals can get involved in this life saving work by simply visiting car washes and auto detailing centers who support this program. Wash Away Thirst's website has a full listing of car washes that are partnering with them at WashAwayThirst.org. Readers can also find more information on this program and facts about clean drinking water on their website.
Each participating car wash, such as Bubbles, will provide one person with clean drinking water per day for every car washed at one of their auto detailing centers. Bubbles Car Wash has locations in Calgary, Edmonton, and Kelowna. Visit their website for location information and more information about their ongoing efforts towards a more socially responsible world.