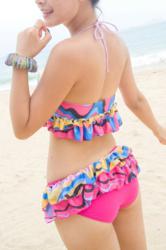 The design inspiration of these two lines is also the secret weapon for swimsuit to instant kill the fashion! -- Robin
New York (PRWEB) May 27, 2012
Oasap.com released its swimsuit collection for 2012 summer on May 24th, which fills in the blanks of swimsuit products on the new born store, and makes Oasap.com move forward to be all-around women's fashion online store with a wider range of products.
Beach and swimming pools are always a battleground for summer fashion and the swimsuit is the strongest weapon. "Chest lines and waist lines are the two major focuses for the swimsuits no matter Bikini or other swimwear, they must be full of visual temptation", OASAO Creative Director, Nico Robin kept on emphasizing the importance of design, "The design inspiration of these two lines is also the secret weapon for swimsuit to instant kill the fashion".
Swimsuit design will become the biggest bright spot in fashion world when more and more women like to show their charming postures under the sunshine occasions. In order to achieve the perfect combination, the swimsuit should be not only designed to be stylish but also comfortable to wear. Swimsuit is one of the best ways for women to show themselves. A wide range of swimsuits are reflected in different styles, while Oasap.com Ltd. believes that the most IN lifestyle is to show personalities. Oasap swimsuit leads to a lot of changes, from basic design, simple pattern and single color to varied and colorful styles and has added much more fashion elements. All those convey the wildness that rises from women's heart. Oasap's vast collection of swimsuits appeals to the wide range of styles, emotions, and needs of today's fashionista.
The design of Oasap swimsuits is inspired by the Amazon Jungle and Miami Beach with a theme of wild and freedom. The newly released collection is abundant in colors, prints and styles including one-piece swimsuits as well as sexy Bikini which fully shows curved figure of beauties. Made of newly-developed materials and advanced technology, Oasap swimsuit are protected from falling loose and eroded by sun cream or skin care products, safe and durable.
Oasap.com will release a summer collection of underwear and T-shirt in the following few weeks.
About Oasap.com
Oasap is a global online women's clothing store dedicated to high-street fashion by offering various kinds of women's apparel, bags, shoes, jewellery, accessories, etc. Oasap was founded in late 2011, however, has already had thousands of SKU by far. We keep updating products at a high rate every day.