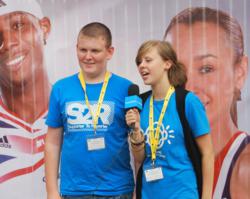 "We are honoured to be working with the Media Volunteers to give them expert skills to tell the story of the games from their perspective, and inspire them to continue their sports reporting back at school."
(PRWEB) May 06, 2012
The School Games Curriculum Competition received excellent entries from budding young sports reporters and photographers from across the country. Now, the winners of the media categories are preparing for an exciting 5 day media camp in London, where they will receive training from the S2R team and industry professionals ready to cover all the action at the School Games in the Excel centre and the Olympic Park from Monday 7th - Wednesday 9th May.
The Sainsbury's 2012 School Games is a multi-sport event for the UK's elite young athletes of school age. Around 1,600 young athletes will be competing with up to 35,000 spectators cheering them on. It will be the last event to be held on the Olympic Park before the opening ceremony on 27 July.
The young reporters will be creating daily video reports mentored by media professionals; meeting the star athletes of tomorrow and telling the story of the games from behind the scenes, with a professional sports photographer mentoring the photography team to capture the action.
All the reports and photographs will be posted to the School Games network on Radiowaves, the safe social network for schools, and also be featured on a live events page set up especially for the School Games by http:// BBC School Report.
Projects Director Lucy Neale feels that "The 2012 School Games is a fantastic opportunity for young people to take their media skills to the next level at such a high profile event. We are honored to be working with the Media Volunteers to give them expert skills to tell the story of the games from their perspective, and inspire them to continue their sports reporting back at school."
Young people attending the School Games can also report on their experience and earn their 2012 Reporter Medal through S2R. The new MakesWaves app from Radiowaves makes it even easier to report on the move. For more info visit here.