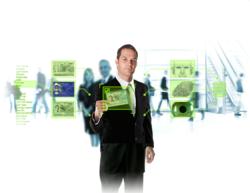 "We are in a changing market", says Alan Heaffey, Director of Operations at RCI Financial Services: "The name of the game is not only fraud prevention but best solution – best service - best offer, for each customer. For that to happen we need to have the
Nicosia, Cyprus (PRWEB) May 01, 2012
The growing trend of purchasing automobiles using financing programs drives dealers and financing institutions to look for reliable solutions for processing large numbers of applicants quickly, correctly, cost-efficiently and in compliance with anti-fraud regulations. The primary hurdle to achieving this lies in the requirement of using official ID documents to verify customer identity and as the authoritative source for their basic personal data. Common practice is still manual "examination" and manual data entry and production and archiving of paper photocopies. This is a slow and costly process that ends up affecting the both the Dealers and RCI's efficiency. The AU10TIX FDI system is a standard-setting solution designed to meet all these challenges in one integrated process.
With the new system in place, car dealers will be able to simply place a customer's ID document on a small scanner, and have the document imaged, authenticated and converted to digital records in a matter of seconds and at the highest possible quality. RCI, on its side, will benefit from the immediate availability of high quality customer dataset, comprehensive document forgery checks and a more efficient and improved service. This will enable RCI to respond to large volumes of requests far faster, safer and more accurately than the industry standard..
In this 4-year project, RCI will roll out hundreds of AU10TIX FDI stations across key dealers in the UK, with the option of broadening coverage to additional dealerships and to other markets as well.
"We are delighted to work with RCI on this project", says Mr Ron Atzmon, Head of Sales at AU10TIX: "One can only appreciate the foresight of the RCI team who were quick to acknowledge the compelling value of Secure Customer Enrollment technology. By introducing the AU10TIX FDI system, RCI is raising the bar for the entire industry".
"We are in a changing market", says Alan Heaffey, Director of Operations at RCI Financial Services: "The name of the game is not only fraud prevention but best solution – best service - best offer, for each customer. For that to happen we need to have the right information to make the right decisions, without keeping the client waiting. With the AU10TIX system, we can do that much better than ever before".
About AU10TIX
AU10TIX Limited, a fully owned subsidiary of ICTS International N.V, deals with the authentication and digitization of identifying documents, including: Passports, identity cards, driving licenses and other complementary identifying documents. The company specialises in implementing hardware & software based applications used for scanning, identifying and acquiring identity documents, authenticating them and their owners, in real-time. The company's products drastically reduce identity and document based fraud in organisations, reducing the costs associated with processing clients, improving compliance competence and effectiveness with related regulations, while making the sales and support operations more efficient. For more information, visit http://www.au10tix.com
About RCI Financial Services Ltd
RCI Financial Services is a 100% subsidiary of RCI Banque SA - a 100% subsidiary of Renault-Nissan SA, with head office is in Noisy le Grand, France. RCI Banque provides finance for the sales of Renault Group brands (Renault, Samsung Motors, Dacia) throughout the world and for the Nissan Group (Nissan, Infiniti). The company finances almost 1 million vehicle loans per year from offices in some 35 countries across Europe, Asia, and the Americas.
About ICTS International N.V.
ICTS specialises in the development and implementation of innovative security concepts and solutions designed to meet the needs of a variety of industries, mainly aviation transportation, border control and sensitive facilities. ICTS International benefits from over two decades of expertise and international operational experience in transportation security, with a particular emphasis on high-risk environments, passenger processing transactions and the integration of security services to provide a comprehensive security solution. It also offers a wide variety of customised training programs, tailored procedures and a wide range of security consulting services. The company has developed and implemented unique technological solutions, based on its comprehensive approach to security, designed to enhance the level of security while accelerating the security check process. For more information, visit http://www.icts-int.com
This press release contains "forward-looking statements" within the meaning of the Private Securities Litigation Reform Act of 1995, regarding the Company's business strategy and future plans of operations. Forward-looking statements involve known and unknown risks and uncertainties, both general and specific to the matters discussed in this press release. These and other important factors, including those mentioned in various Securities and Exchange Commission filings made periodically by the Company, may cause the Company's actual results and performance to differ materially from the future results and performance expressed in or implied by such forward-looking statements. The forward-looking statements contained in this press release speak only as of the date hereof and the Company expressly disclaims any obligation to provide public updates, revisions or amendments to any forward-looking statements made herein to reflect changes in the Company's expectations or future events.
Contact:
AU10TIX
Ofer Friedman, Head of Marketing
Email: ofer.friedman@au10tix.com
Tel.: +972-50-4 71 71 50
RCI Financial Services Ltd
Alan Heaffey
Operations Director
alan.heaffey@rcibanque.com
ICTS International NV
Alon Raich + 00-972-974-47770
mail@ictsinternational.com