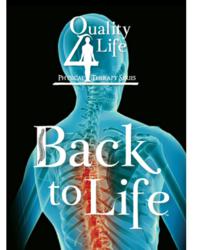 The most effective back pain treatment is proper stretching and gentle strengthening exercises. The DVD contains the same exercise for back pain that I ask my regular patients to perform at home twice daily,"
Chandler, AZ (PRWEB) May 01, 2012
The recently released Back to Life DVD features 50 minutes of simple, proven therapeutic exercises to provide in-home relief for common back problems. Available at an affordable price of $29.99, this step-by-step program is designed for people who have moderate to severe back pain, and who want to get better but do not know how to improve their quality of life or regain their independence.
"Most back pain treatment products on the market today are too aggressive, and they provide few long-term solutions," says Sean Miller, PT, co-creator of the exercise for back pain program, which requires no special equipment and features easy modifications to meet individual fitness levels. "This video fulfills that need by helping people get back to enjoying life again. It can never fully replace what a physical therapist offers, but it is a great alternative that enables people to effectively manage their pain."
Working in partnership with the Scottsdale, Ariz., SEO company PageViews.com, Kinect Physical Therapy is launching an aggressive education campaign to teach people how to alleviate common back problems. Affecting 8 in 10 Americans, back pain is the leading cause of disability for people under age 45 and the second most common reason people visit their doctor.
Back pain is caused by everyday stress on the spine, from lugging a heavy backpack to hunching over a laptop all day, as well as degenerative diseases, such as arthritis and sciatica. While moderate pain can be frustrating, chronic pain is debilitating. As it progresses, sufferers struggle through the simplest tasks, like taking a shower, unloading the dishwasher or climbing into bed.
"The most effective back pain treatment is proper stretching and gentle strengthening exercises. The DVD contains the same exercise for back pain that I ask my regular patients to perform at home twice daily," says Miller, who specializes in correcting balance and vertigo as well as treating the knees, neck and shoulders.
One of Miller's largest concerns is the rising costs of seeking professional physical therapy, which can require a dozen visits to see long-term results. Due to increasing deductibles and exorbitant co-payments that span $30 to $60 per visit, back pain treatment is becoming unaffordable. This has created a huge need for people to receive cost-effective, quality treatment.
For more information, to view testimonials or to order the DVD, visit BacktoLifeVideo.com.
About Back to Life
Created by Sean Miller, PT, owner of Kinect Physical Therapy in Chandler, Ariz., and James Kilgore, PTA, the Back to Life DVD is part of the Quality 4 Life Physical Therapy Series. Kinect Physical Therapy, which opened its doors on Jan. 1, 2012, is guided by a compassionate group of Arizona therapists who offer a higher level of individualized care at an affordable price.