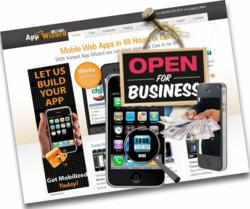 10 year old builds a smart phone app in 10 minutes.
Tampa, FL (PRWEB) May 04, 2012
http://www.instantappwizard.com/10yearold.php
10 year old builds smart phone app in 10 minutes using Instant App Wizard and starts mobile app business.
Her app works with iPhone and Android phones while giving a mobile presence to her favorite dance academy. She makes it look easy to build an app with integrated text messaging and email messaging.
She walks through the process of building an app while creating a mobile app business. The Instant App Wizard is a cloud based online app generator and helps its resellers quickly create their own Mobile Apps Business.
The Instant App Wizard Platform makes it easy for any company to have their own mobile web app and easily be able to text message and email their best customers all within their app while including all of their business information and even GPS directions from anywhere in the world to the business.
"Most people are not aware of how powerful the impact is in their customers mind when a business has their own app that can be installed on any iPhone or Android phone," says Instant App Wizard COO Woodrow Bridges. "Businesses can send the best customers coupons and promotions to help increase sales and easily increase traffic to the business during normally slow hours."
"And Instant App Wizard is proudly Made in The USA," says Bridges. "We have been working very hard for the last 10 months on making the Instant App Wizard an extremely easy way for local businesses to get their own app."
Journalists interested in getting their own app may obtain access by contacting Instant App Wizard from the Press section of InstantAppWizard.com
Instant App Wizard helps businesses get their own app with Text messaging and Email Marketing built right it and allows resellers to start their own mobile app business quickly and easily.
Instant App Wizard
http://www.instantappwizard.com
Woodrow Bridges
855-330-2673
Press Page (Including High Res Images)
http://www.instantappwizard.com/press.php
10 year old building an app
http://www.youtube.com/watch?v=pHwr9f3u6ck