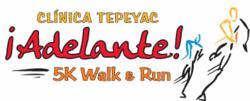 Denver, Colo. (PRWEB) May 01, 2012
In celebration of National Women's Health Week, Clínica Tepeyac is hosting the first annual Adelante 5K Walk and Run, Community Expo and Kids Half-Mile Fun Run on May 13, 2012. The event takes place from 8 a.m. to 12 p.m. at the Stapleton Recreation Center in Denver's Globeville neighborhood and is open to men, women and families. The U.S. Department of Health and Human Services' Office of Women's Health is one of the primary sponsors of the event. Other sponsors include Suncor Energy, Colorado Ranch Market, Entravision Communications, American Diabetes Association, Zeppelin Development Inc., CREA Results, and the Globeville, Swansea and Elyria Business Association.
National Women's Health Week, which kicks off on Mother's Day each year, is a national effort to raise awareness and empower women to make their health a top priority. Last year, more than 100,000 people participated nationwide, including many underserved women and men who received access to important preventative health services.
The most important steps women can take to improve their health include eating a nutritious diet, getting regular physical activity, avoiding unhealthy behaviors, like smoking, and paying attention to mental health. Women should also get regular checkups and preventive screenings (National Women's Checkup Day is May 14).
"We all have a role to play in women's health," said Jim Garcia, CEO and founder of Clínica Tepeyac. "Women often serve as caregivers for their families, putting the needs of their spouses, children, and parents before their own. As a result, women's health and wellbeing becomes secondary. As a community, it is our responsibility to find ways to support women in the critically important role they play and do everything we can to help them take steps towards longer, healthier, and happier lives."
Clínica Tepeyac is one of Colorado's most respected safety net clinics. The organization is a model for providing health education, prevention, and primary medical services to underserved patients in metro Denver.
For more information or to sign-up for the event, please visit http://www.Adelante5K.com or contact Tracy Pineda at 720-274-2928.