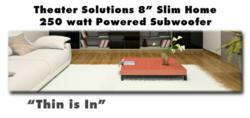 Thin is In
Detroit, MI (PRWEB) May 01, 2012
Theater Solutions, recognized for affordable excellence in loudspeaker and home theater designs, announces the addition of the Theater Solutions SUB8D and SUB8S Powered Subwoofers — the outcome of a 15-month endeavor to provide the performance of its award–winning subwoofers in a more concealable compact size.
The SUB8D and SUB8S are designed with the modern home in mind trending toward clean unobtrusive lines and accessories such as flat screens, and flush mount surround sound speakers. The new SUB8S measures a mere 4 3/4" x 24 5/8" x 15 3/4" and can be easily hidden under a couch or chair. The SUB8D measures 13 3/4" x 10" x 13 3/16", perfect for a smaller room or built-in cabinet. These new designs not only needed to be compact but also to provide the deep bass punch, authoritative power and full bodied crystal sound Theater Solutions prior models are well recognized for.
This seemingly impossible task of designing a uniquely compact powered subwoofer living up to its predecessor the RT500 was a task Theater Solutions project manager and engineers began to tackle in the fall of 2010. Developing an enclosure to house a highly specialized low frequency 8" driver with high mass they were able to introduce the new models just this month.
The SUB8S and SUB8D both offer seamless acoustic integration with a variety of speaker setups for music and home theater applications. The specially built in cabinet amplifier has high level left/right spring terminal inputs. The 24db per octave crossover is continuously variable from 50-150 Hz creating full bass without the balminess.
This powered sub also has a built-in auto shut off. If two minutes goes by and sub does not receive a signal it switches to stand-by mode to conserve power. A feature Theater Solutions plans to add to all of their powered speaker lines in the future to support energy conservation and enhance safety. Volume and crossover frequency dials round out the special features on this super powerful subwoofer. The 8 inch long throw bass down firing woofer has a frequency response of 35-150 Hz +/- 2db. The port design smooths air flowing in and out of the cabinet, reducing turbulence and port noise. The ports also increase linearity, lowers distortion, reduces 5th order harmonic distortion and provides an increased output as high as 2-3 db. A black wood finish, cabinet feet, 115 AC cord, included RCA cables and RCA "Y" adapter round out this subwoofers fantastic details.
Theater Solutions was founded over 20 years ago and has steadily been growing and introducing innovative home audio products. The new SUB8S and SUB8D are available in stores now with an MSRP
of $199.99. Also, available on-line at OnlyFactoryDirect.com.