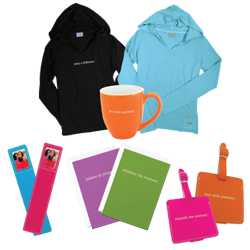 "inspirationwear makes you feel good inside and out, and what better message to give to somebody who inspires you?" Ron Dinehart
Plainview, NY (PRWEB) May 03, 2012
the universe knows is excited to announce bundle kits. An easy way to get the best inspirational package of shirts, mugs, and much more.
Just in time for Mothers Day, the universe knows is announcing its brand new "kit" section. Easy to find on the website, kits are the perfect way to put together a gift package.
With over half of all internet users buying at least one product online, and Theuniverseknows.com hitting record numbers this year, both in views and in a 15% jump in sales, it's important to the company that it is easy to find exactly what is being looked for. These brand new kits make it possible to either choose by price, or by product what the best combination for each person is. For this inspirational company, it is important to spend time and energy looking at the Pearls (of wisdom), not necessarily combing through products.
The mug kit, which includes a choice of three of the best-selling bistro mugs is a great way to get a gift. There is nothing better than wrapping your hands around a hot cup of coffee, tea or hot chocolate, and these mugs are the perfect size to do that. Along with over 25 different inspirational sayings on each mugs, in over 15 different colors there is a mug for everybody.
The super popular, soft, unbelievably comfy hoodies make an appearance in three of the kits. These hoodies are the most popular seller of the entire company. Every hoody boasts an inspirational saying. The colors run from basic black to raspberry and from a soft purple, to a bright iris. Always eye catching, putting one of these on makes anybody feel good both inside and out, the inspiration can be felt within.
As Mothers Day approaches and people are trying to figure out what the perfect gift is for the mothers and mother figures in their lives, the universe knows is hoping people will turn towards the inspirational brand. "inspirationwear makes you feel good inside and out, and what better message to give to somebody who inspires you?" says owner Ron Dinehart.
The idea of buying the person who has raised and inspired you a gift that will inspire them inspire is something that is very exciting. With an inspirational saying appropriate for everybody there is a perfect gift to buy.
the universe knows, inc. is an apparel company dedicated to inspiring people. the company was founded on and is dedicated to a unique vision: to remind people of the wisdom that resides within, and inspire strength and courage to live with passion and purpose.