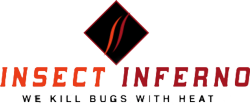 Owning an Insect Inferno is like having another technician
Leonard, MN (PRWEB) May 01, 2012
Corey Westrum, Inventor and Owner of Insect Inferno, will be exhibiting at the National Pest Management Association's Bed Bug Forum. The Forum will be May 2 - 4th, 2012 at The Crowne Plaza Anaheim Resort, Anaheim California.
Corey will be here to answer any questions about using the Insect Inferno to eliminate bed bugs and their eggs in most household items.
The Insect Inferno is an enclosed mobile heat chamber that you place household items in to heat treat. Heat treatment is the most effective way to eliminate bed bugs. With the Insect Inferno Trailer everyone saves time and money. There is no need to throw away items such as; mattresses, box springs, pillows, couches or any other items that are costly to replace. With the Insect Inferno you can heat treat items in under 2 hours.
Corey and Sue Westrum have owned a pest control company in Northern Minnesota since 1999. Insect Inferno has been a vital part of their pest control and most importantly bed bug jobs and success in their own company.