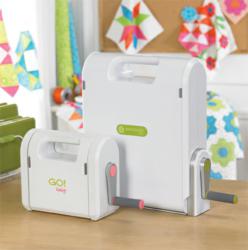 We love the fact that quilting brings communities together. It's one of the reasons we enjoy our work so much. –Steve Nabity, AccuQuilt CEO
Omaha, NE (PRWEB) May 01, 2012
On April 27, 2012, on behalf of AccuQuilt, international distributor of fabric cutting solutions for quilting and fabric crafts, quilt industry icon Ricky Tims announced winners of the third annual AccuQuilt Barn Quilt Design Contest at the American Quilter Society (AQS) quilt show in Paducah, Kentucky.
The grand prize winner is Belinda Karls-Nace, a cross-stitch pattern designer from Des Moines, Iowa. A 17-foot painted version of her winning quilt block design will be displayed for a year on the outside of the new AccuQuilt headquarters building in Omaha, Nebraska, where tens of thousands of people are expected to see it as they drive by on Interstate 80. The grand prize package includes a trip for two to Omaha for the official barn quilt unveiling, two tickets to one of two Let's GO! Quilt Retreats taking place before and after the unveiling, and a $1,000-dollar shopping spree for AccuQuilt product.
Second runner up, Carol Johnson, is a truck driver and quilter from North Bay, Ontario. A six-foot painted version of Johnson's winning design will be displayed for the next year inside AccuQuilt headquarters. Carol's runner-up prizes include a $250-dollar shopping spree with AccuQuilt and one ticket to a June AccuQuilt Let's GO! Quilt Retreat retreat. She and her husband are considering driving from Ontario to Nebraska to attend the unveiling and retreat.
Hundreds of original designs were submitted for the contest, and the top 100 designs earned their designers $25 in Rewards Points with AccuQuilt. "We love the fact that quilting brings communities together. It's one of the reasons we enjoy our work so much. We are proud of the part the annual AccuQuilt Barn Quilt Design Contest is able to play in bringing members of the quilting community together to vote on designs and celebrate this beloved traditional art," said Steve Nabity, AccuQult CEO.
Winners of AccuQuilt Barn Quilt Design Contest Share their Quilting Stories
Karls-Nace created her first quilt at the age of 12, and has quilted seriously for the past six years. Her favorite types of quilting are home decor projects, appliqué and miniature quilts. No matter what the quilting project, because she works as a cross-stitch pattern designer, she finds she uses personal quilting time to relax and do something special for herself. On busy days, that sometimes amounts to only a few minutes of quilting. She uses all three AccuQuilt® fabric cutters to help her save time quilting. She uses the GO!® and GO! Baby® fabric cutters when she needs to be portable or cut just a few pieces for a project. The AccuQuilt® Studio™ Fabric Cutter has a place of honor in her home studio, where she uses it to cut more layers at a time, often using it to help prepare class kits for the classes she teaches.
"When I first heard the phone message saying I had won the AccuQuilt Barn Quilt Design Contest, I squealed like a little girl," Karls-Nace said. "Then I thought, that can't be right. Someone must be playing a joke on me."
Johnson has been quilting since the early 1990s, when she picked up a quilting magazine and decided to make a quilt for her daughter. Her grandmother quilted and so does her mother, who began quilting even more after Carol became interested. Carol's favorite projects are those with large spaces that allow stitched designs. She hopes to someday do a whole cloth quilt, so she can experiment with free-motion quilting. She also likes to break away from tradition, finding ways to break the rules to create unique projects. Carol is a truck driver by trade and often takes hand stitched projects with her on the road as a creative outlet.
"People think I'm crazy. They ask, 'Why would you want to cut up fabric into little pieces only to sew them back together?' They also wonder why on earth I would want to drive a truck," she laughs, "but I've been doing that for the past eight years. Yes, I'm crazy about both quilting and driving!"
Every spring, AccuQuilt invites quilters, fabric artists and designers from any discipline to enter designs for the barn quilt design contest. This year, designs were due by April 9, 2012. Entries were posted on the AccuQuilt website, where consumers were invited to vote on their favorite designs from April 11 through April 18. The unveiling event will take place on June 22, 2012, at AccuQuilt's new Omaha headquarters building, in conjunction with Let's GO! Quilt Retreats, one before and one after the unveiling event. Sponsored by AccuQuilt and Country Traditions, the retreats coincide with the Omaha Quilt Show, which is taking place right next door at the same time.
The concept of barn quilts began with Donna Sue Groves and her wish to honor her mother, Maxine, and her Appalachian heritage by having a painted quilt hung on her barn in Adams County, Ohio. As friends encouraged her to complete the project, Donna Sue instead suggested that a "sampler" of twenty quilt squares could be created along a driving trail that would invite visitors to travel through the countryside. The first quilt square was an Ohio Star, painted by local artists and installed in 2001 on a building at a greenhouse in Manchester, Ohio. With encouragement from Donna Sue Groves, other quilt trails were started in Ohio, Tennessee, Kentucky, and Iowa. This simple idea gradually spread to 36 states and to Canada, and the trail continues to grow. Over 4,000 quilts are part of organized trails; dozens more are scattered through the countryside waiting to be discovered. Find more information at http://www.barnquiltinfo.com
The AccuQuilt GO! Baby® Fabric Cutter and GO!® Fabric Cutter, are available at local quilt and fabric retailers. Quilters also can purchase GO! fabric cutters and dies, along with the Studio™ Fabric Cutter, GO! adapters, and hundreds of Studio™ quilting dies, by visiting accuquilt.com or calling 888.258.7913.
ABOUT ACCUQUILT
Headquartered in Omaha, Neb., AccuQuilt offers quilters, fabric crafters and retailers a premiere line of fabric cutters, dies, quilting patterns and other quilt and fabric cutting solutions that help quilters quickly and accurately cut shapes for quilting and fabric crafts. AccuQuilt also offers quilters a wide variety of rich educational resources to enhance their quilting experiences. Cutting with AccuQuilt® cutters is a natural evolution of fabric cutting methods. "First scissors…then rotary…finally…AccuQuilt®" for fast, easy, accurate fabric cutting. Visit AccuQuilt online at http://www.accuquilt.com
# # #