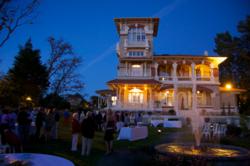 Hotels and Resorts are wonderful, but villa travel elevates that same vacation to a whole new level, which tends to be much more experiential in nature.
Newport Beach, CA (PRWEB) May 01, 2012
Private Trade Winds is actively revamping its portfolio by hand-selecting villas that appeal to those seeking a culturally rich and diverse travel experience. Last week the company surprised its clients with two new offerings in Italy; a 9,000 square foot 7-bedroom villa on Lake Como and a charming 9-bedroom classic villa in Tuscany. The inclusion of the Lake Como villa adds a new destination to its previous portfolio.
Coming in right on schedule this week is the release of their 8-bedroom, 9,600 square foot, seaside villa on the Arcachon Bay just a short drive from the coveted wine region of Bordeaux. This villa, which provides the Company with a brand new destination in France, was graciously donated by the Owner as a live auction item for the Juvenile Diabetes gala that took place in March. It was the highlight of the evening's travel collection with a value of $28,000 for the week donation.
The second villa announced this week is a newly remodeled 7-bedroom estate overlooking the sparkling waters of the Amalfi Coast in Italy. The gourmet kitchen and wine cellar will no doubt appeal to clients who crave an authentic Italian culinary experience, while the historic nature of the region will delight historians of classic European art and heritage.
The launch of the new portfolio was prompted by the Company's landmark 5-year anniversary, and Irene Aviles' commitment to keeping ahead of the curve for their dedicated clients. "Hotels and Resorts are wonderful, and they provide the typical vacation that we have all known and loved since childhood. Villa travel elevates that same vacation to a whole new level, which tends to be much more experiential in nature." Said Aviles, the Owner and Founder of Private Trade Winds. The Company is also a full service licensed travel agency and Concierge service which allows a convenient one-stop-shop for booking and itinerary planning. Those interested in exploring the hybrid club concept further should contact Judy Sweetland at jsweetland(at)privatetradewinds(dot)(com) or call 866-789-4589 Ext. 804.
Private Trade Winds is located in Newport Beach, California and is an innovator in the Travel Industry, positioned as the low cost alternative to high priced destination clubs. With a global portfolio of villas, both Classic and Modern, discerning travelers have embraced the 'hybrid club concept' and are traveling more frequently due to the significant savings of 20-50% off market price, as well as exceptional service and value. The Company continues to grow in membership, and is credited within the travel industry as defining villa travel for both Travel Agents as well as Consumers.
###