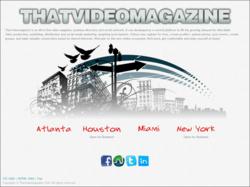 Small businesses say that online directories are the marketing options they use most today and are most likely to employ in the next 12 months. - 2010 US Small Business Activity & Spending Study and Report
Brooklyn, New York (PRWEB) May 08, 2012
ThatVideoMagazine is a new website developed as a central platform to fill the growing demand for affordable video production, publishing, social media marketing and distribution, targeting local markets.
"Small businesses say that online directories are the marketing options they use most today and are most likely to employ in the next 12 months." - 2010 US Small Business Activity & Spending Study and Report
The spokesperson for this new startup describes it as more than just another online address book, "It is a comprehensive video magazine, business directory and social network. We are here to help businesses take the next step forward by utilizing social media optimization, also known as SMO. It is becoming more and more challenging to rank high in search engines and to keep up with Google's ever-changing algorithm. Social Media Optimization drives traffic from sources other than search engines."
Thatvideomagazine's social network offers unparalleled benefits to its users. Registration is free for users where they may create profiles/portfolios, upload photos, post events, create groups and network according to shared interests. Members may also enroll in a profit sharing program where they can earn $100 for every referred business that registers and pays for a listing.
The reason behind higher efficiency and potential of video marketing is due to its ability to connect with the viewer while offering convenience. When browsing online, people tend to skim through the written text. In the case of videos, a well produced, creative HD video can develop instant interest, rapport and trust with potential customers.
While there are numerous business directories around, Thatvideomagazine stands out as a completely new business model and revolutionary concept. The idea was conceived after extensive research on currently available business directories and online marketing tools. Thatvideomagazine incorporates the most beneficial features from social media websites including LinkedIn, Facebook and even Groupon. "We provide a platform for local businesses to harness the positive power of social media while subtracting all the negative aspects such as extravagant coupon commissions, pay per click (PPC) and cost per impression (CPM) fees," adds the spokesperson.
The official launch of this magazine startup is scheduled for June 2012. However, the New York magazine is already open for registration. This all-in-one website is currently offering business listings at an introductory rate of $1,995 per year.
About ThatVideoMagazine
Thatvideomagazine is a video-based all-in-one video magazine, business directory and social network. The website allows local business to advertise and attract customers through Social Media Optimization, creative HD videos with a persuasive call to action.