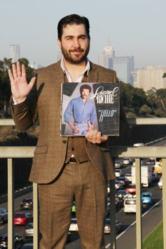 Bob Dylan wrote about a thirteenth century, Italian poet that spoke to his soul. I'm no Bob Dylan, but Dom Italiano is the modern day incarnation of that poet.
Melbourne, Australia (PRWEB) May 01, 2012
Dom Italiano's music style can be described as pseudo Folk-Country-Pop-Rock for those who were never cool in school. Imagine Paul Simon in a crowded house with Ryan Adams, John Mayer & Keith Urban.
Never Going Back was written after arriving home from a funeral. "A close family friend had suffered for a long time before passing away," explained Dom. "It was heart breaking to see our friends grieve. It put into perspective some of the things I was struggling with." He goes on to note that "Never Going Back" is a statement of intent. The chorus lyrics are:
Too many times I've lost my.
Negative thoughts that would lead me astray.
I'm changing for good and I'm changing today and I know that I'm never going back.
Dom explains that "Songs can be like good friends that lend a helping hand: I feel that Never Going Back helped me through some tough times."
Lyrics such as 'I'll tell you one thing for sure, no side ever wins the war' and 'It's both dirty and clean, yeah life is a killing machine' are weighty observations that add substance to the hook laden chorus and poppy bounce of the verses.
The video itself (which, in keeping with its title, is entirely backwards) was made on a budget of $120 and pays homage to Bob Dylan's Subterranean Homesick Blues video, with a twist: Dom uses album covers to emphasise specific lyrics in the verses. Dom reveals, 'It's important to me to acknowledge my influences. Some of the album's featured in the video hold songs that literally changed my life' (Paul Simon's Graceland, Skid Row's 1st Album, Band on the Run and Meatloaf's Bat Out of Hell to name a few). You might not be able to hear some of those influences in Never Going Back, but the more you listen to my other songs, you'll hear all of those artists creep in to my singing, song writing and guitar playing."
Music fans can watch the video and download the song for free (for a limited time) at http://www.domitaliano.com or on Dom's free iphone & android app. 'Writing songs and playing music isn't about the money for me' said Dom. "I'm happy for people to have the song for free. It's a song about hope and about taking a stand on behalf of your future. I hope it becomes an Anthem!"
Dom Italiano will be releasing more music in 2012. Dom reveals, "I'm being made redundant from the job I've had since I was in High School this coming August. It'll be 18 years service by then. I'm looking forward to an exciting future of possibilities and sharing more of my music with anyone who wants to hear it."