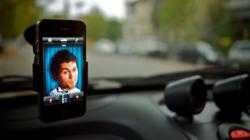 With iBoost in your car and the special edition 'Dan' sound pack, you can drive around with Dan's turbo sounds playing every time you shift gears, and a sweet bobbing head to boot!
Melbourne, Victoria (PRWEB) May 02, 2012
Last week, 19-year-old Daniel Jovanov wowed the judges of "Australia's Got Talent" by reproducing some of the world's most famous turbo and engine car sounds in a performance that launched him into the next round and global fame. His "human car sounds" video went viral overnight and received more than 2 million views within just days.
The video also caught the eye of Aussie app developers Bonobo, creators of iBoost, "the app that makes your car sound turbo." To support Jovanov, Bonobo has released a free, limited edition 'Human Car Sound' add-on for the app with turbo sounds from Dan's recent performance, so fans and car lovers can experience the thrill of Jovanov's talent in their own vehicle. Bonobo has also decided to make the main iBoost app (typically $1.99) free for the duration of Jovanov's time on the talent show, so Bonobo and other fans can show support for the star.
"We thought Dan was amazing the second we heard him. As developers that spend a lot of time working with car sounds, we couldn't believe how close his sounds were to the real thing! When looking through the YouTube comments, we were surprised by the number of people who had said that they wished they could hear his blow-off sounds in their car, so we thought it would be funny to put Dan's sounds in iBoost, so now you can do just that." said Nathan Hamey from Bonobo.
"iBoost simulates a turbo using the phone's sensors to detect the movement and acceleration of your car. It has boost gauges and turbo sounds that play as you drive, making your car sound just like the real thing. When we put Dan's sounds in, we couldn't believe our ears. I have no idea how he does it, but his sounds are incredibly real! With iBoost and the Dan pack in your car you can now drive around with Dan's turbo sounds, and a sweet bobbing picture of his head to boot."
Bonobo's goal is to encourage its more than 250,000 existing iBoost customers to raise awareness of Jovanov's awesome talent and support him into the next round.
"We've spoken with Dan, and while he likes the idea, for now he is still in contractual obligations with the show. This is therefore just our unofficial way of giving him a boost with iBoost. We all think he's a bloody legend, so once he's finished with the show we'd like to extend an offer to him in the hope we hope we can record even more of his sounds, and even more fans can enjoy the sound of this very talented guy in their cars," added Nathan.
iBoost is being made available for free, for the duration of Jovanov's time on the talent show.
It is currently available on iPhone from the App Store.
An Android version is coming soon.
About Bonobo
Creators of the iBoost app and other apps that have topped app store charts around the world and been featured in the New York Times, CNN, TechCrunch and more. Bonobo is located in Melbourne, Canberra, Singapore, Montreal and New York. For more information or to purchase iBoost, please visit iboostturbo.com
More information on the Special Edition Dan Sound Pack can be found at http://iboostturbo.com/humancarsounds
Press Assets:
The special edition 'Dan' press kit can be downloaded from: http://bit.ly/danpresskit
The iBoost press pack can be downloaded from: http://bit.ly/iboostpresskit