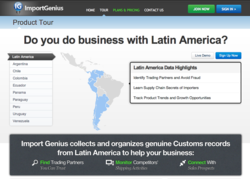 Latin American import-export businesses can now use Big Data to identify, qualify and connect with reliable trading partners.
Phoenix, AZ (PRWEB) May 10, 2012
A tidal wave of new data is coming ashore in Latin America, threatening to change the way companies involved in import-export in the region find suppliers, monitor competitors and connect with sales prospects.
ImportGenius.com, a U.S. company that specializes in managing enormous datasets for companies in the international trade industry, today released more than 250 million shipping manifests and customs records from nine countries in Latin America. This enormous database represents a veritable treasure trove of insights into the trading activities of companies throughout the region. The company launched a new section of its Web site at ImportGenius.com/Latin to provide an overview of the various datasets available for the region.
The prospects of using big data to achieve business process improvements have been bandied about for years in Silicon Valley and the world's high tech centers. Yet until very recently a dataset that large would have been far too big and unwieldy to be useful to ordinary import-export businesses, the companies that can benefit the most from the data.
After spending the last four years establishing themselves as the go-to resouce for accessing U.S. shipping data and import-export business intelligence, two years ago ImportGenius.com turned to collecting and organizing international trade data from South and Central America.
After signing license agreements to gain access to customs records and shipping manifests from nine governments in the region, the company's data scientists then applied their most advanced data normalization, indexing and search technologies to the datasets. The result of their efforts is what appears to be the most advanced platform for understanding the verified importing activities of thousands of firms in Argentina, Chile, Colombia, Ecuador, Peru, Panama, Paraguay, Uruguay, and Venezuela.
By crunching this data through its advanced algorithms and then providing subscribers with simple tools for finding information about companies in their own industry, ImportGenius.com has created a service that will change the game for importers and exporters in Latin America.
The firm's customers can identify trading partners based on their actual shipping activities, avoid fraud by verifying identities, track the supply chains of key competitors and connect with other businesses whose shipping histories indicate a need for their products or services.
"Big data is going to permanently alter the rules of the import-export game, not just in Latin America, but around the world" says ImportGenius.com President Ryan Petersen. "Customers with access to our shipping databases for these nine countries will gain an immediate leg up in finding reliable trading partners and growing their import-export businesses."
ImportGenius.com clients can start accessing these new datasets immediately through a simple upgrade to their existing account. New clients can sign up online to access the Latin American datasets for as little as $99 USD per month.
"Processing 250 million shipping records is not a lightweight computing task," says Mr. Petersen. "But we have some of the smartest Big Data scientists in the world on our team, so we're confident that we'll be able to handle the demand."
About ImportGenius.com
ImportGenius.com is a world leader in collecting, organizing and making sense of Big Data on the international trade industry. Through advanced data management technologies, the firm is able to help its clients make sense of hundreds of millions of shipping manifests and customs records from government agencies and private companies around the world. ImportGenius.com clients access these data through a simple web application that provides insights into the real-time shipping activities of their competitors, suppliers, and others in the import-export space.