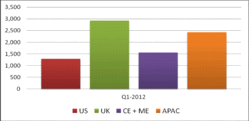 "Companies continue to be very cost conscious and are focused on efficiency and productivity," comments James Bennett, Global Managing Director at eFinancialCareers.
London, UK (PRWEB UK) 2 May 2012
Slowing job opportunities in the UK and across the world's top financial markets were evident in the first quarter, ending 31 March 2012. Financial sector job availability slowed in the UK by 11% year-on-year with average monthly job postings decreasing from 3,270 in Q1 2011 to 2,923 in Q1 2012.
This also represented an 8% quarter-on-quarter decrease from Q4 2011 to Q1 2012 – a third successive quarterly slowdown. However, the UK compared favourably with other regions as the United States and Central Europe and the Middle East saw drops of 13% and 14% respectively. APAC experienced a drop of 10% over the same period.
In March, the number of job postings on eFinancialCareers.co.uk in private equity and venture capital recorded the strongest growth year on year (+36%). On the flip side, equities were the worst performing sector, with a drop in jobs posting of 50% over the period.
"Most recruitment that occurred in the quarter was prompted by businesses focusing on critical replacement hires and restructuring," comments James Bennett, Global Managing Director at eFinancialCareers. "Companies continue to be very cost conscious and are focused on efficiency and productivity."
Opportunities
The really big issue for banks this year will remain costs. Most banks are still focused on cost-efficiencies and, as a result, they are still cautious about recruitment. However, despite this focus on cost-efficiency, eFinancialCareers has identified areas where hiring is more likely:
Sales and marketing - in the current climate banks are competing with one another for a smaller pool of business and, are in need, more than ever, of excellent, specialist sales people. In the current uncertainty, however, sales people are less likely to move, which makes it more challenging for banks to fill any vacant positions.
Talking to investment banks and looking at their latest quarterly results, eFinancialCareers has identified some areas of opportunities:
Rates: Investment banks' fixed income divisions have had a positive first quarter, and many firms cited their rates desks as a particular area of strength. Recently, these divisions were the target of redundancies and banks are beginning to look at rebuilding them again.
Equity derivatives: While the equities divisions of investment banks continue to suffer, equity derivatives – particularly Delta One – remains relatively positive. Firms are highlighting it as an area of growth and we expect hiring plans to reflect this.
Finally, regulatory functions – such as risk, compliance and anti-money laundering – will remain in demand in 2012. With the sheer volume of regulations in effect and the continuing development in this area, eFinancialCareers anticipate continued demand in these areas.
Ends
About eFinancialCareers
eFinancialCareers, a Dice Holdings, Inc. company, is the leading global career site network for professionals working in the investment banking, asset management and securities industries. The website provides financial services professionals with job opportunities, job market news and analysis, salary surveys and career advice. Recruiters and employers can post jobs targeting specific sectors within the financial services industry, both buy-side and sell-side, and can search the resume database for highly qualified and specialized professionals. eFinancialCareers has a network of co-branded career sites with industry-leading trade publications and offers local websites in 19 markets and five languages primarily across North America, Europe, the Middle East and Asia-Pacific. Please visit http://www.eFinancialCareers.co.uk for more information.