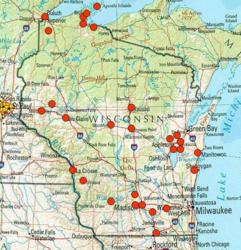 Oshkosh, WI (PRWEB) May 03, 2012
Sustainability, green building, and now eco-municipalities are the growing trend in the field of planning and community development. Sustainability is defined as development that meets the needs of the present without compromising the ability of future generations to meet their own needs. Green building is defined as the practice of increasing the efficiency with which buildings and their sites use energy, water, and materials. Using the concepts of sustainability and green building, many Wisconsin cities are now creating eco-municipalities. An eco-municipality collaborates with other communities regionally, nationally, and internationally both to learn from others and assist others in their change processes.
This is a crucial time for people to rethink how we meet our needs today to help to ensure a desirable future for following generations. Healthy Living Events, LLC presents a distinguished list of speakers for the Sustainability Expo who will discuss what is, and isn't, working in their cities in a combination of group discussions and workshops designed to give others the tools to develop programs and initiatives in their own city. Eco-Friendly businesses will also be present to answer questions and create new partnerships for the future.
Many enterprising cities from across the state will be presenting on specific topics relating to work they are doing on Sustainability issues. Learn from planners and thought leaders from Beloit, Bayfield, Madison and many more on topics ranging from integrating green building and LEED certification into public buildings, alternative energy program development and implementation, eco-based efficiencies, wellness initiatives and more.
In 2005, the Wisconsin communities of Ashland, Washburn, and Madison became the first eco-municipalities in the United States when their city councils each voted to adopt either the APA sustainability objectives or the original Swedish sustainability framework on which these are based.
Becoming eco-municipalities in 2006, the Town and City of Bayfield set the tone for decisions each community would make becoming more sustainable and climate-friendly communities. Since then, Bayfield has led by example and truly become the 'greenest' community.
The Sustainability Expo on May 12th in Oshkosh, WI offers a day of solution-based, interactive, family oriented events designed to educate people of all ages about: renewable energy, alternative transportation, sustainable agriculture, green building, buying local, recycling, living eco-friendly, and reducing your carbon footprint.
Other activities taking place at the expo include:
Organic Food Court with some of Wisconsin's Top Chefs
The "Cheese Lady" Cheese Carver
Mega-Recycling Day
Guinness World Record Challenge