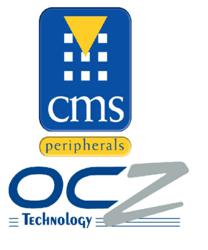 London, UK (PRWEB UK) 1 May 2012
CMS Peripherals, one of the largest independent data storage and solutions distributors in the UK and Ireland, has recently added the OCZ Vertex 4 SSD to its portfolio, complementing the range of cutting- edge Solid State Drives from OCZ Technology which has been made available to the reseller channel.
The OCZ Vertex 4 SSD will redefine the way the data is stored through performance maximisation with 100 times the speed capabilities of traditional hard drives, and instantaneous access times. It offers a durable, shock- resistant, and lightweight solution for data storage. It is silent, using significantly less wattage at peak loads than hard drives; and it is clean, with no moving parts or heated computer environments. And, underlying all the above, there is the increased cost effectiveness of an SSD over its HDD predecessor.
Designed to take full advantage of the SATA III interface, the Vertex 4 unleashes ultimate productivity, gaming, and multimedia applications.
Paul Nevitt, Business Manager at CMS Peripherals states "OCZ's Vertex 4 512GB is a game changer and one of the most capable, well- balanced Solid State Drives on the market. It has been engineered to deliver industry leading file transfer rates and reliable, energy efficient data storage offering incredible performance in workstation and heavy-duty environments with multiple data threads. OCZ Vertex 4 is a great product, like nothing you've experienced before".
Why Choose Vertex 4 SSD?

Up to 95,000 Random Read IOPS
Available in 128GB to 512GB Capacities
Access Latency as Low as 0.02ms
Strong Performance at Lower Queue Depths
The OCZ Vertex 4 SSD also features an Indilinx Infused™ Everest 2 Platform- a dual-ARM controller architecture which enables faster performance. The Vertex 4 SSD is underpinned by an industry-leading 5 Year Warranty and by OCZ's renowned service for ultimate peace of mind.
OCZ Technology Vertex 4 is now available at CMS Peripherals in the UK and Ireland.
About OCZ Technology
Founded in 2002, San Jose, CA-based OCZ Technology Group, Inc. (OCZ) is a leader in the design, manufacturing, and distribution of high performance and reliable Solid-State Drives (SSDs) and premium computer components. OCZ has built on its expertise in high-speed memory to become a leader in the enterprise and consumer SSD markets, a technology that competes with traditional rotating magnetic hard disk drives (HDDs). SSDs are faster, more reliable, generate less heat and use significantly less power than the HDDs used in the majority of computers today. In addition to SSD technology, OCZ also offers high performance components for computing devices and systems, including enterprise-class power management products as well as leading-edge computer gaming solutions. For more information, please visit: http://www.ocztechnology.com.
About CMS Peripherals Limited
Founded in 1988, CMS Peripherals provides its customers with a wealth of storage and consumer electronics products, and is focused on meeting increasing demand for high-performance storage solutions across a wide spectrum, including individual multimedia management to enterprise IT infrastructures. CMS's focus and technical expertise in this area has contributed to the company's position as the preferred partner for the largest UK and Irish resellers for some of the most well-known IT brands, and they have had an instrumental role in furthering OCZ's presence in the storage market. For further information on OCZ's SSDs and PSUs please contact us in our UK office on +44 (0) 20 896 6000 or our Irish office at +353 (0) 94 9374000. Alternatively, please visit http://www.cms-store.com