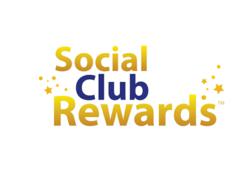 Reward Customers For Growing Your Business
(PRWEB) May 01, 2012
To help local businesses address their need for more effective and effortless mobile and social media marketing, Social Club Rewards (http://www.SocialClubRewards.com) recently launched the third release of their cloud-based, automated loyalty program, integrating text messaging (SMS) and email support with Facebook's social media application.
Through Social Club Rewards, local brick and mortar business owners quickly and cost effectively incentivize fans that spread the word about their products and services, encouraging friend and family referrals.
"I am used to chasing customers. Now my customers chase people for me," says Bill Zumwalt about Social Club Rewards, a certified public accountant known as the "Tulsa Tax Coach" and one of Social Club Rewards' first clients.
Currently in use by businesses in 434 cities in eight countries and on four continents, Social Club Rewards' customized club programs turn local business Facebook fan pages into a hub for sharing and referrals. According to Facebook, the average media site integrated with Facebook sees a 300 percent increase in referral traffic.
Club members are rewarded when they share their favorite business's promotions via the club's automated processes for email, Facebook and Twitter. The club also allows business owners to communicate specials, date-driven promotions (such as birthday and anniversary offers), and offer coupons quickly and at a low cost – and captures key data mining information, such as how a customer was referred to the club and how they have interacted with offers. According to research cited by American Express's Open Forum, approximately 200,000 mobile coupons were redeemed in 2009, but by 2013, that number is expected to top out at nearly 70 million mobile coupons worth $2.4 billion.
Local businesses such as accounting/tax preparers, auto repair shops, bars and restaurants, chiropractors, dentists, dry cleaners, salons and spas, real estate agents and veterinarians and other pet service companies have found success with the program. Social Club Rewards launched in 2011 and has experienced a more than 90 percent client retention rate in year two.
"By enabling local business owners to turn foot traffic into referrals, we help business owners get more customers without working more hours or spending a ton on marketing," said Greg Pitstick, co-founder and CEO of Social Club Rewards.
Social Club Rewards also recently established a direct sales force in the United States and Canada to address increased demand for the product. For a limited time, the company is offering special rates for the new software release via its direct sales force.
For more information, visit Social Club Rewards online at http://www.socialclubrewards.com or call (888) 374-0696.
About Social Club Rewards
A cloud-based loyalty program, Social Club Rewards is based on Cincinnati, Atlanta and Toronto. Social Club Rewards has strategically integrated social marketing via Facebook, email marketing and text message marketing (SMS) into a single platform for marketing to a business's customer base.
The platform enables traditional brick & mortar businesses to create customizable membership clubs that rewards customers for becoming members and referring the business to others they know, turning a business's customers into a dedicated sales force resulting in repeat customers, new customers and increased sales.
Ideal for the typically non-technical business owner, the easy-to-manage, cloud-based platform requires no software and allows customers to be part of a community and easily tell their friends about the business. Social Club Rewards is the innovator of digital word-of-mouth marketing using its patent-pending automated relationship management tool.