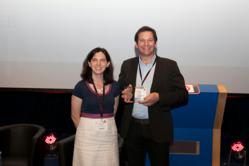 Cambridge, Cambridgeshire, UK (PRWEB UK) 29 May 2012
UK firm LOOP Digital Media have won the prestigious title 'Media Pioneers of the Year', at a special awards ceremony celebrating the best of new media publishing and innovation.
The Cambridge firm picked up the gong at a glitzy award ceremony held by the Specialist Media Show, in Birmingham UK, capping off a show which brought together experts from the industry throughout the UK and further afield.
The judges singled LOOP out for its bold decision to cease publishing print magazine editions of its well-established brands LOOP, P1, BLADES, LOOPIN' and FLIGHTTEST; all have now been migrated to the iPad, utilising Adobe's DPS suite, and have since become the highest-rated aviation magazines apps on the App Store.
Director Sam Spurdens explained: "We were so pleased to have been nominated, so to win against some incredible opposition really took our breath away. There are some fantastic things happening in publishing, and to be picked out as one of the leaders in this very fast-growing sector is humbling to say the least."
So what is the secret to the success story, which has seen the publishing company grow its subscriber base hugely? Mr Spurdens, who was a guest speaker at one of the show's many seminars, revealed that the firm uses a mixture of film, interactivity, photography, and writing to create tailored editions – all things that the iPad allows to be shown off better than ever before, he says.
He explained: "As part of the Adobe pre-release programme of the Digital Publishing Suite, we were able to produce apps that incorporated a huge amount of entertainment for pilots and aircraft owners worldwide.
"We have always strived to make magazines that had a little something extra. The iPad has proven to be the best way imaginable to allow us to bring all the joys of relaxing with a magazine, and getting engrossed in a film, into one place."
One pay off that wasn't foreseen was the ability to springboard from being a predominantly UK-centric title, to appealing to a truly global audience. Sam said: "We have gone from having a mainly UK audience, to having one that is spread around the world. Clearly this has had an impact on the editorial we produce, but if you can manage that transition from being domestic to international, the publications are much better for it. It's not about leaving UK readers behind – it's about giving them even more good stuff from around the world. Pilots are hugely aware of what's going on in the world – the iPad simply aids that process.
"With top ratings for all the apps it's been a lesson in how to take advantage of new technology to revive a publishing industry that has been suffering from readership decline for many years."
From a business side, the response has been electric. Advertising response on the apps has dwarfed previous print-based versions, and LOOP now has a separate arm which creates many advertisements for clients.
Sam said: "When readers play with advert interactivity such as web links, 360 degree product views, and galleries, clients realise that the ads have to be as good as the editorial.
"The opportunity to include interactive buttons has been taken up by 74% of advertisers resulting in entertainment for the reader going beyond editorial. The savviest advertisers realise they have to make adverts into content that presents their product in new and exciting ways, and they are really keeping up with the pace of development.
"The challenge is to understand how readers are using the new media to view the apps. With the ability to watch, read, and interact, the apps are presenting new ways for publishers to define the magazine experience."
"There hasn't been a more exciting time to work in publishing and the opportunities for audience growth worldwide is defining how we approach publishing. We have a philosophy in the office whereby what we know now will be nothing compared to 12 months time. The pace of change is so fast! We are always looking to better the experience for our readers and this is the reason they give us such high ratings and great reviews."
If any journalists would like to arrange an interview please send an email to sam(at)loop(dot)aero to arrange.