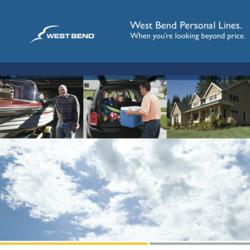 West Bend uses unique card to get it's message out.
Jackson, Wi (PRWEB) May 07, 2012
West Bend Mutual Insurance was looking to increase awareness of its brand and services it provides. It turned to Tim Meffert with Proforma Effective Solutions for assistance. Tim presented the Interactive card as a potential solution.
This card looks like a postcard but is designed so that it has four panels instead of two. The card makes an endless loop as it folds from one panel to another. The unique qualities of this card means that people will stop and pay attention if only to figure out how it works. In today's environment where the average consumer receives thousands a messages every week this card's unique design means it will stand out from the crowd says Meffert.
Another advantage is having four panels instead of two. This allows for double the amount of information compared to a traditional postcard. This patent pending card allowed West Bend to convey a message in a very creative package.
The design can be used in a variety of formats including interactive coasters, marketing pieces, direct mail and even business cards. Companies such as Boston Beer, The Las Vegas Chamber of Commerce, Guiness, and Centegra Health Systems have used this unique card to create awareness of their products and services.
About West Bend Mutual Insurance: For more than 115 years, West Bend has been providing valuable insurance coverages and services to home and auto owners, as well as business owners, throughout the Midwest.
West Bend is a relationship-based company with core values that emphasize excellence, integrity, and responsibility. Our vision is to be the company of choice for associates, agents, and policyholders.
West Bend's associates number more than 1,000 and are committed to providing exceptional service to our policyholders and independent agent partners.
About Proforma Effective Solutions: Proforma Effective Solutions provides a wide range of solutions to help businesses of all sizes increase their business. Services include promotional products, printing, eCommerce Solutions, multimedia services and total project management solutions.