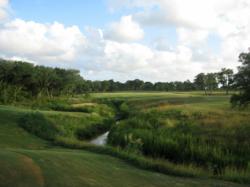 Golf Course Architect Mike Nuzzo and Builder and Superintendent Don Mahaffey's functional, practical and well-engineered methods have saved golf courses hundreds of thousands of dollars while lowering annual maintenance costs."
Houston, TX (PRWEB) May 01, 2012
Since designing and building one of the best golf courses of the modern era, Wolf Point Club, Golf Course Architect Mike Nuzzo and Builder and Superintendent Don Mahaffey have combined their expertise to incorporate their now-proven methods to benefit a range of new clients, from municipalities to private clubs to corporate management companies. From Texas to Wisconsin, and from Virginia to the state of Washington, Nuzzo and Mahaffey's functional, practical and well-engineered methods have saved clients hundreds of thousands of dollars in immediate capital expenditures while lowering clients' annual maintenance costs.
"We work with golf courses across the country that are overjoyed with how cost-efficient our methods are. When they see how practically and efficiently we approach projects, they realize that they actually can afford to make improvements to their courses that they never thought possible," said Nuzzo, an aerospace engineer-turned-golf course architect who brings unique, efficient design processes to the table. "I like to use my design and engineering background to address what is often the most neglected part of golf design – construction and maintenance. Design, construction, and maintenance have to all work together for the project to be as good as it can be."
"I'm a big believer in not messing with things that don't need fixing. Keeping the scope of the job as small as possible and the area of disruption as tightly controlled as possible is a method I believe helps ensure a successful project within budget," said Mahaffey, a 25-year golf industry veteran, Golfweek Superintendent of the Year Finalist, and Certified Golf Course Irrigation Auditor. "With our method, the client pays for talent and expertise, but not for items that add zero value to the project, and there is no need to build in extra money in the budget for 'just in case.' We aim to do it a better way by focusing on value innovation. In today's environment, quality can be had for less."
The Model: Success at Wolf Point Club
In 2006, Nuzzo and Mahaffey teamed up to build one of the best golf courses of the modern era, Wolf Point Club. They were give free reign to build as nice of a golf course as they could. Rather than spend as much as possible, they succeeded in trying what they always wanted -- to build a great golf course practically. They set out to do things that were best for their client, not necessarily the same direction as the industry has been heading for the last 20 years. They built Wolf Point Club for a fraction of a traditional new golf course, and it is maintained for an even smaller fraction. They didn't cut a single corner, and used the latest and greatest technology available. The irrigation system is state-of-the-art, and they utilized GPS throughout the entire process, from design through maintenance. Due to these efficient, practical processes, costs from the ground up totaled what Golf Course Architecture called "an astoundingly low $3 million."
Functionalism: The Future of Golf Course Design and Construction
"In many cases, when we meet with golf course representatives, they have already spent more money trying to fix something themselves than it would have cost them if we did the work for them," said Mahaffey. "Having served as a golf course manager, owner, superintendent, and builder over the years, I've been involved in my fair share of construction projects, and I know that my job is to try to minimize the construction impact while maximizing the value of the improvement. I really enjoy going into a situation where the club or course is unsure they have the resources to do what's needed and then help them find a practical and affordable solution."
Mahaffey continued, "It makes financial sense to hire a golf course architect. Doing everything in-house without a golf course architect can actually cost more in the long-run because things often have to be re-done later at a greater total cost. We believe in being practical – using local materials and local labor are pillars of an economically sustainable model."
Texas golf courses, such as Champions Golf Club in Houston, The Battleground Golf Course in Deer Park, and Riverside Golf Course in Victoria, as well as national golf course management companies, have enjoyed the fruits Nuzzo and Mahaffey's cost-efficient practices. One course alone saved $300,000 by choosing their methods over a traditional approach.
Nuzzo and Mahaffey's work has been called "the future of golf course design and construction" by the international magazine Golf Course Architecture, and Texas Golfer has called Nuzzo "the man who should be the next big name in golf course architecture."
Mahaffey and Nuzzo know that their work is judged on a course's ability to maintain what they design and build in a cost-effective fashion. "We believe in a combination of good planning, careful consideration to the area of disturbance, and quality construction, which results in golf features that are highly functional and maintainable for practical costs," Mahaffey added.
A New Paradigm for Irrigation
To bring golf course irrigation costs to a comfortable level, Mahaffey believes that a new paradigm is needed, and that starts with more practical design and a more basic approach. They perform GPS mapping before, during, and after construction. They make simplicity in design, quality components, high performance and durability, and quality construction affordable.
In addition to their work together, Mahaffey has designed and is currently installing another state-of-the-art irrigation system for the second course at Dismal River, a Tom Doak golf course in the Sand Hills of Nebraska.
About Mike Nuzzo: Golf Course Architect Mike Nuzzo of Nuzzo Course Design, L.L.C., is a former aerospace engineer who followed his passion to the field of golf course design. His work has been called "astounding" by Golf Course Architecture, and he has been called "the man who should be the next big name in golf course architecture" by Texas Golfer. In addition, the Houston Chronicle named the Nuzzo-designed Swanson Golf Center "The Best Practice Facility in Houston." Nuzzo's services include original design, golf course renovation and golf course restoration. Nuzzo is a throwback to the Golden Age of Golf Design in that he believes a golf course architect should be responsible for the entire golf course, bucking the trend towards specialization and subcontracting many of the responsibilities.
About Don Mahaffey: In addition to being a Golf Course Builder, Don Mahaffey is also a Golf Course Superintendent at Wolf Point Club, a private 18-hole course on the Gulf Coast of Texas. Mahaffey's superintendent experience spans from Oregon to Arizona to Texas. Across the country, he has garnered a wealth of construction experience managing projects from the superintendent's side. At Wolf Point Club, Mahaffey was responsible for golf course construction, the design and implementation of the maintenance facility, equipment and maintenance program. His creative abilities, coupled with his maintenance experiences, allow him to efficiently maintain great golf courses. Licensed and insured, Mahaffey has the capabilities to take on any size project.