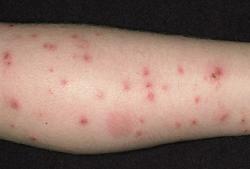 Bed bug bites look like other animal bites...
(PRWEB) May 01, 2012
Bed bug bites got a plane locked down last Thursday, said a report from suntimes.com dated April 26. One passenger of the aircraft was mistaken to have contracted an infectious disease. After discovering that the root cause of the incident were the bed bug bites, BedBugBully.com gave advice how to identify the marks. In addition, the website also suggested tips how to get rid of bed bugs fast and safe.
According to the report, Lise Sievers was suspected to have acquired monkeypox from her trip to Uganda. After receiving a call from La Porte Hospital about her rashes, Center for Disease Control held the plane she was on in Detroit and checked Sievers.
During the stop-over, it was said that the 50-year old called her mother. The report detailed that she told her about the bed bug bites she got from her hotel and the pustules she saw in the boy she'd hoped to adopt. Confused that Sievers was the one with pustules, her mother then called La Porte Hospital for advice. In turn, the hospital informed Center for Disease Control.
After confirming that the rashes Sievers got were not linked to monkeypox, the plane was allowed to continue its flight.
Below is part of the report Bed Bug Bites Caused Plane Lock Down from BedBugBully.com
"Bed bugs are some of the worst pests that you ever have to deal with. And a great part of what makes them the most dreadful insects that you can ever encounter are their bites and the marks that show up after the act.
Actually, the marks that bed bug bites leave are not the only things that you can expect. Apart from them, there also come swelling and itching. In addition, they can also be a cause of embarrassment. And unfortunately, for Lise Sievers that is exactly what happened. And more, the bites also caused the lock down of her flight for a few hours."
Read more about Misunderstanding Over Bed Bug Bites Got Plane Locked Down at: http://www.bedbugbully.com/bed-bug-bites-mistaken-monkeypox/
Bed bug bites look like other animal bites said BedBugBully.com. And so, it advised everybody to check images of them and learn how they are different. If unsure, the site said that it's best to consult a doctor.
However, to avoid the bed bug bites completely, one must learn how to get rid of bed bugs effectively, the website added. And for a safe elimination of the pests, apart from just effective, a bed bug victim can use a pesticide-exempt bed bug spray, it said.
However, of all the solutions available, the website only recommended the use of Bed Bug Bully. As it said, with the product, one can kill bed bugs naturally without having to evacuate.
Grab a sample of Bed Bug Bully today. Go to http://www.bedbugbully.com.