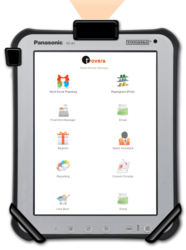 The Retail Mobile Manager is for large retailers who want to: (1) integrate sales channels, reduce out of stocks and increase same store sales, (2) provide more responsive customer service, and (3) increase the overall efficiency of store operations.
Ellington, CT (PRWEB) May 02, 2012
Data Capture Solutions(DCS), a leading provider of unique mobility solutions that provide real business value, announced today the release of their Retail Mobile Manager Solution designed to help retailers integrate their sales channels, provide more responsive customer service, and improve store operations. The Retail Mobile Manager is a total solution that integrates all of the management, operational, and selling functions of the retail environment onto a single mobile tablet so store managers spend less time in the back office and more time on the selling floor, and sales associates are enabled to provide a more personalized shopping experience.
The solution includes custom software developed by Trovera, the premier provider of next-generation mobility software solutions for the retail industry and was purpose built for use on the Toughpad by Panasonic, the recognized leader in rugged PCs, laptops, and tablets. Data Capture Solutions will provide a full suite of integrated services needed to maintain peak performance including staging, kitting, as well as remote device management and troubleshooting from the DCS Mobility Command Center (MCC) in Ellington, CT.
According to Mike Morgal, DCS Vice President and retail industry specialist, the Retail Mobile Manager integrates all of the management, operational, and selling functions onto a single mobile device. "It brings together the traditional back office PC applications like work force planning and plan-o-grams, the typical handheld applications such as line busting, mobile POS, and inventory management, and the typical kiosk applications such as gift registry, price checking, and assisted selling", Morgal said. "This solution allows store managers to spend more time out on the sales floor and gives sales associates immediate access to the information they need to help shoppers find the items they want."
"Our research made it very clear that the industrial appearance and smaller screens of the usual mobility devices weren't going to cut it for a customer-facing application like this one," said Frank Borghese, VP of Sales at DCS. "We decided on the Panasonic Toughpad because it combines the processing power, IP65 ruggedness, and wireless connectivity we wanted with a bright, 10" touchscreen," he said. "It gives the store managers the PC-like performance they need while making it easy to share information with shoppers."
Mark Piquette, President Solutions and Services at DCS added "Our services are a critical part of the Retail Mobile Manager solution because they give retailers the lowest total cost of ownership possible. We stage and test every device before the stores get them, and our remote device management capabilities mean that we can instantly update software, reconfigure the Toughpad, remotely troubleshoot and restore device performance, and even lock down a stolen device from our Mobility Command Center." Piquette added that the MCC also acts as the single point of contact and coordinates all service related issues for customers including RMAs, repair tracking, help desk, as well as comprehensive device management.
About Data Capture Solutions
Data Capture Solutions (DCS) is a $30 million total solutions supplier of hardware, software and services including bar code scanners, mobility devices, wireless systems as well as support, professional, and managed services. The company is focused on providing unique solutions that drive real business value in the Food, Retail Operations, Warehousing, Distribution, Transportation and Logistics, Wireless Field Mobile and Healthcare industries. Incorporated in 1992 as a Value Added Reseller, DCS provides a complete range of products and services to meet our customers' unique and changing needs.