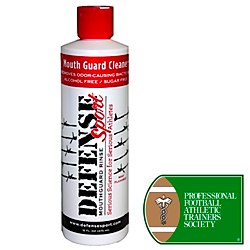 Why do athletes, of all ages, not utilize anything to clean and eliminate bacteria from their mouth guards during play?
Allentown, Pa (PRWEB) May 01, 2012
It is a common practice for every athlete, coach and parent to take the necessary precautionary measures when it comes to protecting themselves, their players and children from injury. But one question is being asked more often, "why do athletes, of all ages, not utilize anything to clean and eliminate bacteria from their mouth guards during play?"
Come Follow Our Blog - Al Dolceamore, Sani Brands President, will travel throughout the country in 32 days personally delivering Defense Sport to all 32 Professional Football Head Athletic Trainers. Fans are invited to follow Al on his journey and share comments via his photo, video, and observations on his BLOG. FOOTBALL fans will want to follow Al's posts as he travels the country. Post questions for Al to ask athletic trainers and players and see his team visit schedule. This series plans to be a light and fun look at the characters, processes, and attitudes of Athletic Trainers in professional football.
Al Dolceamore, has made a career in the Pharma, biotech, and clinical research industries for much of his adult life. Al has done extensive research to identify the prevalence of harmful bacteria on mouth guards and the health issues associated with contact to them. His studies led him to create Defense Sport: Mouthguard Rinse.
Athletic Trainers and Health Issues Resulting from Contaminated Mouth Guards: For years academic studies have identified contaminants on mouth guards and their links to a number of medical conditions contracted by the individuals using them. Athletic trainers in professional sports, colleges, and high schools are now taking action to help curtail exposure to "dirty mouth guard" and reduce the potential for illness. Defense Sport: Mouthguard Rinse will play a major role in their efforts to keep mouth guards clean.
About Defense Sport MouthGuard Rinse:
Al Dolceamore, President and Founder of SaniBrands Inc., and Defense Sport: Mouthguard Rinse, has developed a product that is an essential addition to sports sidelines everywhere. Established in 2009, Defense Sport Mouthguard Rinse intends to aid athletes to remain healthy and competitive by promoting healthy habits and encouraging regular cleansing of sports mouthguards. Visit http://www.defensesport.com for more information.
Look for Defense Sport: Mouth Rinse: Defense Sport should be used and on the sidelines of professional football, college, and high school teams. If you of your child are participating in a sport that requires mouth guards and you don't see it on the bench, tell someone. Tell a coach, tell an athletic trainer, tell a booster club, a child's health is TOO important and using Defense Sport: Mouthguard Rinse should be in their regiment for disease prevention.
SaniBrands, Inc., "Science with Commons Sense" (http://www.defensesport.com), is a small business that practices using 100% American made materials to produce its revolutionary product, Defense Sport: Mouthguard Rinse. Defense Sport changes the way athletes, parents, coaches, and athletic trainers look at the prevention of health issues resulting from exposure to contaminants present on mouth guards. Defense Sport is the first and only product on the market scientifically created to clean and eliminate bacteria from the mouthguard during play.
"Defense Sport is completely safe for the appliance and the oral cavity," said Dr. Christina Lawrence, DMD, Allentown, PA, who added that a dirty mouthguard can create pathogens, which can get into an athlete's bloodstream, causing serious respiratory, skin and muscle and tissue infections.
"The active ingredient is an antimicrobial rinse that we use daily in our dental office," Dr. Lawrence added. "Defense rinse is a chemical sanitation of the appliance, which can be used at home or in the normal environment of the use of the mouthguard."