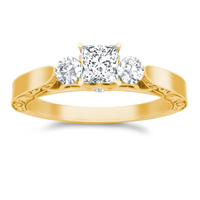 Garnet Rings have always been used as both engagement rings and cocktail rings
Cockeysville, MD (PRWEB) May 01, 2012
Garnet, the January birthstone, has always been very popular and used in both fashion rings and engagement rings. Garnet rings have been used by ancient Greeks and Romans over 2000 years ago. Now in the present time, women attracted by the deep Red color of the Garnet gemstone, use it extensively as it is very affordable compared to other major gemstones. JewelOcean, as always has now introduced a complete range of Garnet Rings, where women can find simple elegant solitaire Garnet Rings to more beautiful designs such as antique and vintage designs, where Garnet Rings are set with diamonds, in the form of Garnet engagement rings. The entire collection is made available on the website for the first time ever, and is now on sale for limited time.
Garnet Rings have always been in fashion. The Red color of Garnet perfectly augments most evening gowns and dresses and therefore Garnet Rings are very popular as cocktail rings also. Women born in month of January specially prefer to use Garnet in their engagement rings, and therefore Garnet engagement rings are equally popular.
JewelOcean has now for the first time ever launched an exclusive ring design section, which is made entirely with Garnet gemstone. Customers would be able to find beautiful Garnet Rings at very affordable prices. The entire Garnet rings collection is made on Gold, with both White Gold and Yellow Gold options available on most of the ring designs.
The Garnet rings collection starts from only $199 onward for simple solitaire designs and goes to higher hundreds for more complex garnet engagement rings designs where white diamonds are also used along with Garnet.
In the popular world of fashion with its ever changing trends, Garnet jewelry has always been a mainstay. As such customers are encouraged to take advantage of the low introductory prices on most Garnet rings and complete their collection with this essential gemstone.
JewelOcean is the industry leader in supplying discounted diamond rings online, specializing in wedding sets and engagement rings. With thousands of positive customer reviews and ratings, JewelOcean is always introducing new styles to its collection, with the Garnet Rings collection being the most recent. For more information on the collection and on the company, please visit http://www.JewelOcean.com