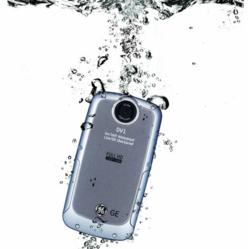 Atlanta, Georgia (PRWEB) May 01, 2012
10Rate reviewers and staff selected 10 of the best waterproof camcorders for 2012, assigning each a numerical rating as well as awarding three models that stood out for quality, value, and budget. Testing and consideration for this Waterproof Camcorder Top 10 list was given based on this set of ten criteria:
1. Completely watertight
2. Rugged build that withstands shocks and dust
3. Lightweight and easily portable
4. Starts up quickly
5. HD video of sharp, clear quality
6. Good audio
7. High quality camera stills
8. Ease of use
9. Editing tools and easy uploading
10. Good battery life
The annual Best Waterproof Camcorder 2012 awards list was headed by the Kodak Playsport Zx5, winning the Best Quality spot and a 9 out of 10 rating. The review noted several strengths of the waterproof camcorder as follows: "The Kodak Zx5 pocket video camera is waterproof, shockproof, and dustproof, making it a highly durable little camcorder. You can take it with you underwater up to 10 feet and for 2 hours and capture colorful sea or pool scenes. Don't worry about everything turning out blue or murky—the camera's white balance mode preserves the true colors underwater. While the camera's images have some noise in low light, its picture quality is pretty great overall."
10rate's editors also gave the Best Value Waterproof Camcorder award to the GoPro HD Hero Naked in the fourth place spot. With a respectable rating of 8.5 out of 10, the review boasted, "A small, lightweight device that mounts atop your helmet, it's waterproof and shockproof and shoots in different pixel resolution settings. You can also take HD stills with a self-timer or in intervals. The camcorder is ideal for hands-free shooting, whether you're motorcycling, sky diving, white water rafting, or mountain climbing. While the audio quality isn't the best, the picture quality is nothing to scoff at."
Additionally, the Best Budget award from the Top 10 Best Waterproof Camcorders list went to the SVP WP5300, for which 10rate noted, "Waterproof up to 10 feet, it captures clear video and photos with no problems. With face detection and smile shutter mode, you can capture great portrait shots that are focused on your subjects' beaming faces. While this camera seems to go through batteries quickly, you can always purchase a rechargeable battery for those long vacations. For such an inexpensive camcorder at $45.99, we were surprised by how well it held up to some rugged conditions."
Kodak and Sanyo were both featured for multiple models each in 10rate's Waterproof Camcorder Reviews. One such Sanyo Waterproof Camcorder, the Xacti VPC-E2, tied for fifth place in overall ranking and the review had this to say of its 8 out of 10 rating: "You can record videos on the ground or underwater at 640 x 480p, which is a perfectly adequate resolution for sharing videos online. The 8 MP camera also works great with autofocusing on faces even when your subjects are moving. The ISO range goes all the way up to 3200 which is handy when you want to take some shots in low light."
10rate.com conducts reviews in various product and services categories and publishes "Expert Top 10 Lists for Everything in your life." The company's web site strives to "Make it Easy" to select from the hundreds of choices there are in the product and service market place. All products and services are thoroughly researched by the company's expert editors prior to receiving a rating on a 1-10 scale. In addition to product reviews the company's editors write guidelines, buying guides and articles on various topics surrounding each product or service category covered to help educate the consumer.