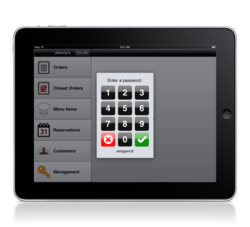 Chicago, Illinois (PRWEB) May 02, 2012
The Ambur team will be at the NRA Show in Chicago May 5 – 8 at booth #7160 to show off the full functionality of the iPad point of sale: wireless printing, mobile ordering, and much more!
Ambur is a revolutionary iPad point of sale that allows it's users to connect unlimited devices, take orders tableside, and print wirelessly. Just visit our online store, place an order, and you're ready to run your establishment!
Not only does the iPad point of sale have mobile ordering and wireless printing, Ambur also offers a number of backend features: shift tracking, payroll, permissions, and reports, to name a few. Reporting and being able to export key reports in CSV format is also available in the all-inclusive one time price of Ambur.
"We created Ambur to make the lives of restaurateurs easier without having to break the bank. By offering a point of sale solution that allows for unlimited devices, Ambur grows as a part of the establishment, rather than serving as a financial obstacle," said James O'Leary. "Apple focuses greatly on customer satisfaction, and I'd like to carry that tune with our company as well," he added.
About Refulgent Software LLC:
Consisting of a team with numerous years of experience in the restaurant industry, Refulgent Software LLC set out to create a powerful, easy to use point of sale system for the hospitality and restaurant industries. With over two years of development and live testing, Ambur was officially released in the App Store in April 2011. Refulgent Software LLC is committed to providing restaurant owners with the most advanced iPad point of sale system available. Free updates ensure that customers will always have a state of the art iPad point of sale system and can take advantage of added features and functions.