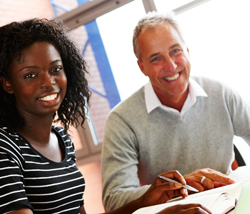 Students who worked with private [SAT] tutors received 10-20 points higher on average
Chicago, IL (PRWEB) May 01, 2012
WyzAnt.com, the nation's largest marketplace for private tutors and students, offers in-home tutoring in over 250 subjects including SAT and ACT test preparation. As the 2012 spring SAT and ACT test dates approach, WyzAnt reported tutoring requests for the SAT and ACT exams have increased more than 30% from February to April.
While most students engage in school-organized preparation and personal study, working with a private tutor to prepare for standardized tests like the SAT and ACT is proven to increase test scores and the probability of being accepted to college. In a study conducted by the NACAS (National Association for College Admissions Counseling), standardized test takers were asked what they had done to prepare for the exam. Respondents who worked with private tutors reported the most significant improvements over previous scores with an average increase of .43 points for the ACT math section and .6 points for the ACT English Section. Similar improvements were reported for the SAT exam where students who worked with private tutors received 10-20 points higher on average for subject specific sections.
Although these reported improvements might seem insignificant, surveyed college admissions counselors stated that what may seem like small improvements can have a meaningful impact on college admissions decisions. According to the NACAC study, "More than one third of postsecondary institutions agreed that an improvement on the SAT Math section of 20 points, or a score increase on the SAT-CR of 10 points, would 'significantly improve student's likelihood of admission.'"
WyzAnt tutor Nicole Coffineau advocates long-term test preparation over a 10 to 12 week period, although she admits just a few lessons can make a difference in raising student confidence and awareness. "Having a few lessons definitely has an impact on students because the first big hurdle is getting past the format of the exam which is significantly different than a student's normal school work and exams. Once students get used to the logic of the test, they become more comfortable."
Standardized tests continue to be an important part of the application process for most colleges and universities, and as competition for admission increases, more students are turning to private tutors to help improve their test scores. According to college admissions professionals and tutors like Nicole, working with a private tutor for just a few lessons and receiving even small improvements on test scores can accomplish this objective and bolster a student's chances of admission.
###
About WyzAnt.com: WyzAnt.com is the largest marketplace for tutors and students, offering an easy-to-use and secure environment designed to foster learning though one-on-one instruction. Students and parents can visit WyzAnt.com to find tutors in a variety of subjects ranging from academics and test preparation to music instruction and computer and career training. Students and parents can review tutor profiles, subject certifications, background checks, and read WyzAnt student reviews to ensure they find the perfect match for their individual tutoring needs. Find WyzAnt on Facebook to learn more about the company and to hear what other users are saying.