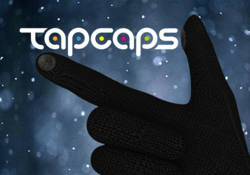 "Brilliant" -Carl Pierre, InTheCapital
Washington, DC (PRWEB) May 01, 2012
TapCaps solves the longstanding problem of needing to remove gloves in order to use a touchscreen device by making every glove a conductive glove.
The woman-owned company has invented capacitive stickers that easily and affordably convert any glove (leather, ski, motorcycle, fashion, etc.) to be touchscreen-enabled, eliminating the need to remove them when operating a touch screen device (iPhones, iPads, Androids, etc.). This internationally patent-pending technology, invented by Alice Ning, mimics the capacitance, or bioelectricity, of the human body thereby tricking the touch screen into believing that it is reading a human finger. It is a revolutionary design as experts had previously believed that human bioelectrical levels could not be imitated in such a small device.
TapCaps were created by Ning to eliminate the need to purchase entirely new pairs of winter gloves, motorcycle gloves, ski gloves, leather gloves, and other specialty gloves. With much interest from investors and retailers around the world, TapCaps is nearing the successful completion of a Kickstarter campaign and moving forward with plans for a product release in Q4 2012.
About TapCaps
TapCaps was founded in 2010 by Alice Ning, who loves to solve problems in the simplest way possible. Ning is a lover of all things STEAM (Science Technology Engineering Arts Mathematics). Professionally, she has spent nearly a decade as a management consultant and in the developing world with aid organizations. These experiences have made her passionate about bettering people's lives and the natural world through innovations that are simple, well-designed, make sense, reduce waste, and create joy.