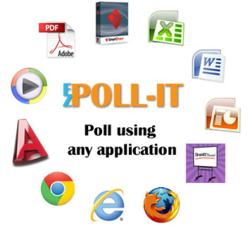 "If you can see it, you can poll-it!"
Plymouth Meeting, PA (PRWEB) May 01, 2012
EZ-POLL-IT audience response software was designed to help presenters interact with their audience through any medium that can be displayed by a computer, be it a video, PDF or Microsoft Office® documents, social media and other websites, or even CAD drawings. If the trainer wants to use these as visual aids, or question content, they can simply turn the polling on and instantly collect feedback from their audience. Learners viewing the presentation interact with the software by responding to questions or verbal cues using hand held audience response devices or "clickers." Presenter can analyze the results of the audience polling through the Excel® and Word® reports that are generated at the end of each session right on the computer desktop.
EZ- POLL-IT is the newest audience response software available for instructor-led training across America. Unlike most polling software, it is separated from PowerPoint®, which allows users the freedom to present and teach topics using any application they wish.
The software is available today from http://meridiaars.com/appcenter.
Company
Since 1970, Meridia Audience Response has been providing innovative technology solutions for the meeting, training and entertainment industries. Combining the experience with the latest in web technology and radio frequency hardware, Meridia is now enabling audiences around the world to cast their vote and be part of the meeting, whether it involves serious training or fun, interactive games.